Short Shorts Film Festival & Asia 2006  Jury and Awards
The Committee has selected five jurors from diverse industry backgrounds with unique points of view. Jurors will select 4 awarded films: 1 Grand Prix, the Best Shorts for each category.
■Shinji Aoyama
---

While in the film club at Rikkyo University, Aoyama made many 8mm movies. After graduation, he worked as an assistant director and critic before directing his first original video movie in 1995, "Kyokasho ni nai!" Since his wide-screen debut in 1996 with the film "Helpless," Aoyama has continued to release a new film every year. In 2000, his film "EUREKA" won the International Critics Award and the Ecumenic Award at the Cannes International Film Festival. While he was submitting "Desert Moon" for the second consecutive year, his novel "EUREKA" received the Yukio Mishima Award. Even after his marriage in 2002, Aoyama continued to release a new film every year. His most recent film released during New Years 2006, "Eli, Eli, Lema Sabachthani?", was invited to the Cannes International Film Festival Certain Regard Category in 2005 and was selected as one of the top 10 films submitted in France.
■Mika Oomori
---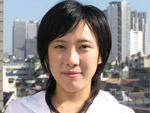 Screenwriter-Director Mika Oomori was born in Fukuoka , Japan in 1972 and is a graduate of Aoyama Gakuin Women's Junior College.  After leaving the Tokyo Bureau of Nagoya Broadcasting Network, she became an assistant director within the drama production division of Fuji Television Network, Inc. In 1998, she made her screenwriting and directorial debut with the late night drama "Bishojo H: 17-Sai no Kiroku."  At present, she continues to work as freelance writer and director on mainstream TV dramas. Her writing credits include: "Kabachitare!," "Long Love Letter Seiryu Kyoshitsu," and "Lunch Queen" for Fuji Television Network, "Kimi wa Pet" and "Satomi Hakkenden" for Tokyo Broadcasting System (TBS), and "Kaze no Haruka" for NHK.  Her film directorial credits include: "Koibumi Biyori" and "Nibanme no Kanojo." In 2005, Oomori gained wide recognition when she won the Mukoda Kuniko Award (the top honor for screenwriters) for her work on "Fukigen na Jean."
■Beth Sá Freire
---
Born in Rio de Janeiro, Brazil, 1956. Since 1997 works at the São Paulo International Short Film Festival as Deputy Director where is also responsible for the Special Programs of each edition.

Official collaborator in Brazil of the Semaine de la Critique at Cannes Film Festival and Oberhausen Short Film Festival.Participation as Jury Member in several international festivals like, Berlin (Germany), Toronto(Canada), etc., and many others in Brazil.
■Maki Nomiya
---

Born in Hokkaido Prefecture, March 12. Blood type A. In 1980s, she made her debut as a solo singer. After years of work in a band "Portable Rock", and "Pizzicato Five" which she joined as a third vocalist, she went back solo. Giving full play of her unique sense of fashion and looks, she is taking an active part in not only the music, but also showing her talent as a model, an advertising model, a CM narrator, a fashion designer, etc. Moreover, she is making a success in collaborative activities with other artists. Maki became an icon of "Women's New Model" who is always in step with times.
Maki Nomiya's Web Site "Oshare Techou"  http://www.missmakinomiya.com/
■Tatsuya Fuji
---

Born in Beijing, China, in 1941, Fuji made his film debut in "Boukyo no Umi" while still at the College of Art, Nihon University. Later on, he took an active part in the Nikkatsu New Action Movies including "Noraneko Rokku" ("Stray Cat Rock") series. In 1976 starred in the Nagisa Oshima films "Ai no Corrida" ("In the Realm of the Senses") and "Ai no Borei" ("In the Empire of Passion"), and attracted international attention. He also had starring roles in the TV series "Kegareta Shita" and "Kaze no Haruka" as well as movies such as "Keshin", "Tomo yo Shizukani Nemure", "Hei no Nakano Korinai Menmen" ("Guys Who Never Learn") and "Akarui Mirai" ("Bright Future"). The Shanghai International Film Festival awarded him the Best Actor Award for his part in "Mura no Shashinshu" ("The Village Album"), which won for Best Picture in the festival. In the Korean-Japanese film "Rikidozan", he showed his presence playing the role of a big-time boss, thus increasing his popularity. A Canadian-Japanese film "Kamataki", which was awarded in the Montreal World Film Festival and the Berlin Film Festival, will be released soon.

※The Jurors are listed in order of the Japanese phonetic alphabet.

■Grand Prix
Selected from three Best Short Award winners. The film will be eligible for Academy Award nominee in short film category in 2006

■Best Short Award
Best Short Award (International Competition)
■Prize:600,000yen
---
Best Short Award (National Competition))
■Prize:600,000yen
---
Best Short Award (Asia International Competition)
■Prize:600,000yen
■Additional Prize
Governor of Tokyo Award
---
This award will go to the Best Short Awarded films in National and Asia International category.

■MoviePlus/Jupiter TV Award
The Short Shorts Film Festival and MoviePlus/Jupiter TV are proud to announce a special new award this year sponsored by MoviePlus/Jupiter TV Co., Ltd. The MoviePlus/Jupiter TV Award will be presented to the winner of the international competition in support of the talent and passion of young international filmmakers. The recipient will receive 1,000,000 yen in prize money.
■SUPER DRY AWARD
The Award is given by the Jury to the Best Short Award Winner of the National Competition Category.
---
■Special Prize : To support Japan's young emerging filmmakers, ASAHI SUPER DRY and the Short Shorts Film Festival will provide a scholarship program to the winner. This program includes 3,000,000 yen to make another short film and other valuable support such as helping to enter the film in prominent film festivals around the world!
■FC Tokyo Student Jury Award (International Competition)
Students jury members from the Tokyo Film School of Art will screen and rate the films to select the award winner.
■Audience Award (From each three category)
■ Prize : 400,000 yen
---
Short Shorts Film Festival
(c) Short Shorts Film Festival 2006 . All rights reserved.