Panel Discussion: Creation of stories all around Japan
We will invite short story writers from three regions to discuss not only the literature works that were written but also the hidden stories of Japan that we want to convey and their charm…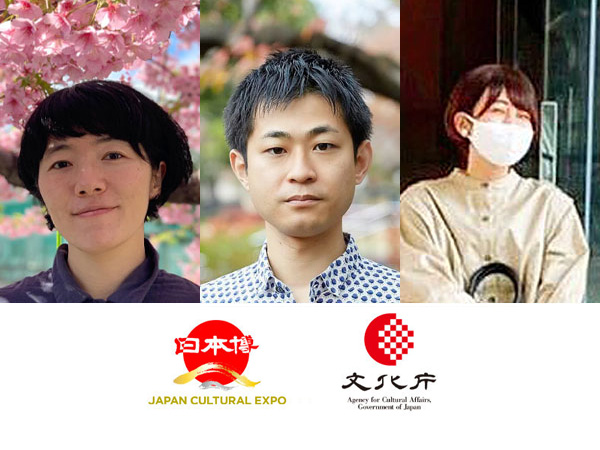 ■Guests
Kumiko Takahashi(left)
Writer, Poet, and Songwriter. Born in Ehime Prefecture, 1982. After working in the music industry she went into writing. Her publications include a novel collection "Gururi" (Chikuma Shobo), a collection of essays, "Tabi wo Sumikatosu" (Kadokawa), and a collection of poems and drawings, "Konya Kyoboudakara Watashi" (Mishima) etc. She has provided lyrics for many artists, wrote scripts for a play of a modernized Ningyo Joururi (a puppet theater), and recites poetry in other times.
Masatomo Tamaru(center)
Born in Ehime, 1987. Graduated from the Faculty of Engineering at the University of Tokyo. He is one of the essential writers of modern short stories and on top of that he is also the head judge for the Bocchan Literary Award. He also holds a creative writing courses throughout Japan. His publications include, "Umiiro no Bin", "Otogi Company" etc. Official Site: http://masatomotamaru.com/
Nako Mori(right)
Born in Kanagawa 1997.
Recieved a HOPPY HOPPY AWARD for Book Catagories in 2019 and a Book Short Award in 2020.
*The event and film details may change.
*The disccussion is held in Japanese only
The link to the 2021 Japan Cultural Expo Project, presented and co-presented by the Agency for Cultural Affairs, the Government of Japan, and the Japan Arts Council, here.