Announcement of SSFF & ASIA 2023 shortlist (1st)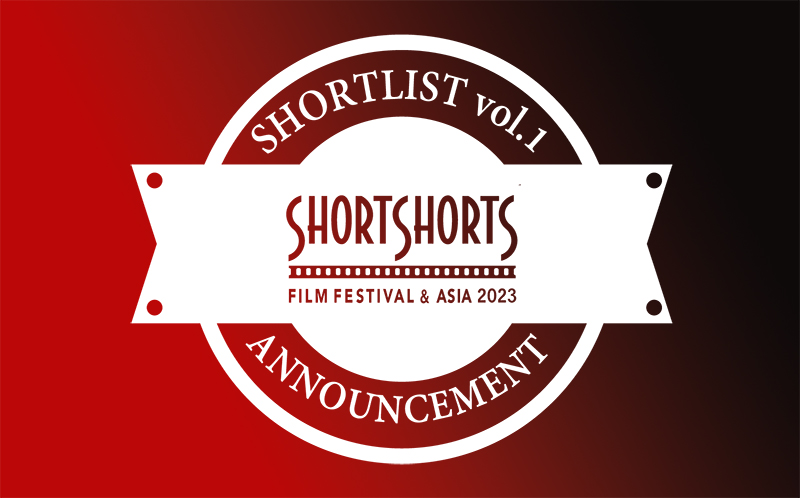 The Short Shorts Film Festival & Asia has released, beginning in August, 2022, a shortlist from among the entries for the five Academy Awards® categories (International, Asia International, Japan, Animation, & Non-fiction). In August, we received a total of about 900 entries. There were many entries from the United States, France, the United Kingdom, and from China, Iran, & Taiwan in Asia. 34% of the submitted films were directed by female filmmakers, 29 % from first time filmmakers and 28 % were student projects. Due to the spread of Covid on a global scale, we have received many films relating to family dramas with stories about getting along and spending more time with each other. In addition, due to the influence of changes in lifestyle, films shot in one location have been increasing. Although there were many submissions of family dramas, they were not necessarily all of heavy themes, and we have seen an increase in comedies and fantasy. A very good start for the 2023 festival, our 25th, to see the filmmakers' passion and desire to deliver positive messages in our current world where sad and frightening news seem to dominate our everyday lives.
https://www.shortshorts.org/creators/en  
〜SSFF & ASIS 2023 shortlist(1st)~
~ The name of the film, the director name, and the country name will be listed in alphabetical order by category ~
 Title
Director
Country of Origin
■International/Live-action Competition
AirHostess-737
Thanasis Neofotistos
Greece
Amala
Nivetha Balasubramaniam
Denmark
Break Hour (Hora Petrolera)
Emilio Braojos
Mexico
Brick Head (Tete de brique)
Alexis Manenti
France
Deloping
Jon Olav Stokke
United Kingdom
El Carrito
Zahida Pirani
United States
FAIRPLAY
Zoel Aeschbacher
Switzerland, France
Goodbye Persil (Goodbye Persil)
Ugo Savouillan
France
Green Fit
Maxime Pistorio
Belgium
Hikikomori
Borja Crespo
Spain
Killing Bagheera (بطلان)
Muschirf Shekh Zeyn
Syrian Arab Republic
Make Love
Alex Osmolovsky
Israel
Mud Crab
David Robinson-Smith
Australia
NO KEY
Walid MESSNAOUI
Morocco
Not My Skin
Balint Klopfstein-Laszlo
Hungary
NOT TOMORROW
AMERISSA BASTA
Greece
Off Side
Sophie Martin
France
Pivot Pals
Doron Drew Feldman
United States
Pro Pool (Piscine pro)
Alec Pronovost
Canada
Safe as Houses
Mia Mullarkey
Ireland
Sami's Fugue
Vincent Tricon
France
Sorry No Vacancy (Der Inhalt eines Bünzlis)
Lars Alexander Wicki
Switzerland
Spotless
Emma Branderhorst
Netherlands
The Deportation of a Model Citizen
Jacob Thomas Pilgaard
Denmark
The Devil
Jan Bujnowski
Poland
the red suitcase (La valise rouge)
CYRUS NESHVAD
Luxembourg
The Silent ones (Les Silencieux)
Basile Vuillemin
France
vic
Schubert Luis
Germany
Victim
Robin SUMMONS
Australia
Where It's Beautiful When It Rains
Harley Chamandy
United States
■Asia International / Live-action Competition
A New Apartment
Szu-Wei Chen
Taiwan
Adjustment
Mehrdad Hasani
Iran, Islamic Republic of
Aunt Lotus & Her Dream Bicycle
Kew Lin
Singapore
Falling up
Maryam Bakhtiari
Iran, Islamic Republic of
Foreign Uncle 
Sining Xiang
China, United States
Girls
Qiwen Zhang
China
Goo
Jack Li
China, Canada
GOODTIME
DONG-IN KANG
Korea, Republic of
Little Love
Aizhan Kassymbek
Kazakhstan
PHOENIX
Mohsen Nabavi
Iran, Islamic Republic of
Please Hold the Line
Tan Ce Ding
Malaysia
Red Funeral
Jane Zhang
China
Ringroad
Andrew Kose
Indonesia
The Company
Ilnaz Kheirkhah
Iran, Islamic Republic of
The Silent Whistle
Yingtong Li
China
The train
pin luo
China
Truffle Trouble (Ye Choom_Ye Lang)
Yaser Barzegar
Iran, Islamic Republic of
Vania on Lima Street
Bayu Prihantoro Filemon
Indonesia
Young People, Old People & Nothing in Between (วายป็อบ)
Parida Tantiwasadakran
Thailand
■Animation Competition
Boogerly Love
Kano Ikeda
Japan
Catisfaction
Andre Marques Almeida
Portugal
HYSTERESIS
Robert Seidel
Germany
Impurrfection
Chiang Yao
Taiwan
IRON PLEDGE
Kurumi Hakamata
Japan
Krasue
Ryo Hirano
Japan
Night
Ahmad Saleh
Palestine, State of
Parade
Akihiro Watabiki
Japan
On my Bicycle (A Bicyclette)
Océane Lavergne, Benjamin Langagne, Lucas Durot, Pierre Cilluffo, Marine Beuvain & Kerrian Detay
France
SCALE
Joseph Pierce
France
Slouch
Michael Bohnenstingl
United States
Synchrony (Synchronie Passagère)
Julia Le Bras-Juarez, Emmie Marriere, Marianne Fourmanoit, Laura Techer, Louise-Marie Rousselie & Jean Delamarre & Alexis Prost
France
The Island of Us
Yu Yu
Taiwan
The Record
Jonathan Laskar
Switzerland
The Thief
Arturo Brena
United States
■Non-Fiction Competition
A different view
Camila Silva
Nicaragua
Blue Dots
Lorenzo Squarcia
Italy
End of the Road
Ivana Todorovic
Serbia
From Dreams to Dust
Stephanie Tangkilisan & Muhammad Fadli
United States
Live Till I Die
Gustav Ågerstrand, Åsa Ekman, Anders Teigen & Oscar Hedin Hetteberg
Sweden
■Japan / Live-action Competition
Bird Woman
Tokio Ohara
Japan
CHANGE
William Sinclair
Japan
Scabiosa
Tsuyoshi Takamura
Japan
Shall we love you?
Haruna Tanaka
Japan
Sowing Love
Koichi Yamashina
Japan
Tofu
Hiroyuki Nishiyama
Japan
What do to do to be like you
Chris Rudz
Japan
Festival selections will be made from among the shortlisted films. The shortlist films will be selected monthly until the end of March, 2023 and will be uploaded on the festival's official website by the end of April, 2023.This month's shortlist is mainly for films submitted by the end of August, but the timing of the announcements may vary.