VERTICAL THEATER COMPETITION supported by smash.
WORLDWIDE ROLLOUT STARTS TODAY!
~ TOTAL PRIZES ¥3,000,000! AN AWARD FOR UNDER-18! ~
VERTICAL THEATER COMPETITION
supported by smash.
WORLDWIDE ROLLOUT STARTS TODAY!
~ TOTAL PRIZES ¥3,000,000! AN AWARD FOR UNDER-18! ~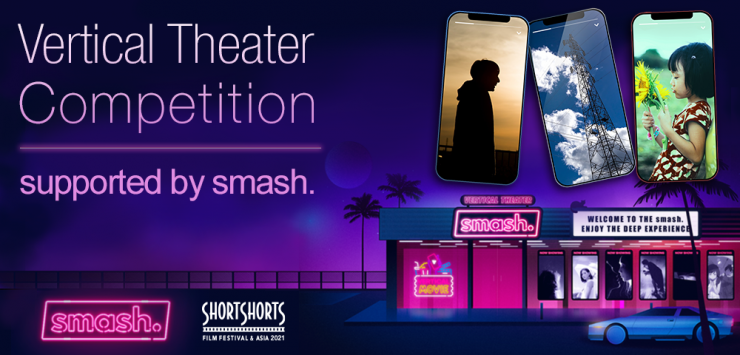 Academy Award® accredited & Asia's one of the biggest international short film festivals, the Short Shorts Film Festival & Asia (SSFF & ASIA) & SHOWROOM Inc., who has developed "smash.", a vertical theater app that delivers professional quality short films specialized for smartphone viewing, have announced a new project to collect vertical short films from around the world through our international film festival and simultaneously promote them to the world.
The 1st stage which begins today, we are calling out to the world about the "Vertical Theater Competition supported by smash." The appeal of vertical theater videos lies in the ability of the viewer to watch videos in your spare time or while commuting even with one free hand. The film industry is showing great interest in the compatibility of contents that like a short film, can give you a satisfying viewing experience.
https://www.shortshorts.org/en/creators/vertical
With the launch of the new 5th generation mobile communication system (5G), viewing on smartphones have been greatly improved and film making is now possible on smartphones. Expectations have been raised for films of the new era by filmmakers from all over the world. For the Best Short Award, there will be an award of ¥1,000,000 as well as an award for shorts made by directors under 18. Selected shorts will be released worldwide on the "smash." app during SSFF & ASIA 2021.
In this joint project, vertical short films produced through this project & vertical short films curated by SSFF & ASIA will be uploaded on "smash."
We appreciate your cooperation with publicity for this project.
Entry Guideline
Submission period:11/26/2020 ~ 02/28/2021
Submission fee:Free
Submission criteria
Vertical short film dimensions: (1080w x 1920h)
2. Premiere restrictions : none
Genre : All
Running time : Maximum 25 minutes (including end credit roll)
Production year : No limit
Country : Open to all countries
Language : English or Japanese. All other languages must have Japanese or English sub-titles.
Format : Data file (mp4)
Awards & Prizes
Best Vertical Short Award : ¥1,000,000
Vertical Short Award: ¥600,000
U-18 Vertical Short Award: ¥400,000
Encouragement Award : ¥100,000 (awarded to max. 10 vertical short films)
*All awards & prizes subject to change.
Submission guidelines
Please submit by filling out our online submission form. Upon successful processing of your submission, you will receive a notification via return email.
Upload your short film.
Film rate : 30.0fps
Resolution: 1080 x 1920
Key Frame: 2 seconds
Bit Rate: 6000kbps
Rate control: CBR
Profile: High
File size: 500MB (Recommended maximum size)
Notification of selection
All notification of selections will be made on our website by the end of April, 2021.
Regarding screenings of selected films
During the period of the film festival, the selected shorts will be screened worldwide online through the vertical theater app "smash.", by SHOWROOM Inc. Due to limitations of the app the short film may be divided into 3 parts. In those cases, we will request that you provide an edited version.
National & International Tour
After the Short Shots Film Festival & Asia is held in Tokyo, there will be a national & international tour. The rights holder of the short films selected to be screened will be contacted in advance. Tour destinations & dates will be announced sometime in the future.
Conditions
・Previously submitted short films cannot be re-submitted. Incomplete short films will be considered invalid & excluded from selection.
・The submission will be considered complete after the successful online downloading of your short film. ・
・Mailed in submissions must be postmarked by the last day of the submission period.
・For multiple submissions, a submission form must be completed for EACH short film.
・In case of selection, you will be required to provide a screening version with an Mp4 data file at 1080w x 1920h. in addition, you may be required to submit additional materials for festival promotions.
・All awards, prizes & tour details are subject to change.
・Submitted shorts may be screened in other competitions or programs of the Short Shorts Film Festival & Asia 2021.
・All awards, prizes & tour details are subject to change.
・Submitted shorts may be screened in other competitions or programs of the Short Shorts Film Festival & Asia 2021.
smash.(SHOWROOM Inc.) https://smash-media.jp/
SHOWROOM Inc. began in August 2015 as a live streaming platform called "SHOWROOM" with the goal to "create a world where opportunity and effort are rewarded fairly."
SHOWROOM topped 4 million subscribers in 2020 connecting a wide range of "livers" & "watchers" with a new style of content viewing. On October 22, 2020, SHOWROOM released the vertical theater app "smash."
The app features music, dramas, animation & a variety of content that are 5 to 10 minutes in length & all in a vertical videos format. With the participation of major entertainment productions including Johnny's & Associates & music producer Yasushi Akimoto, SHOWROOM plans to further release 2,600 content by 03/31/2021.