The SSFF & ASIA program was screened at the 17th Asiana International Short Film Festival in Seoul, Korea!
The Asiana International Short Film Festival (AISFF) was held at CINECUBE from Thu, October 31st to Tuesday, November 5th and 6 Japanese short films were screened. Seigo Tono, festival director of SSFF & ASIA wrote about it.
—
The Asiana International Short Film Festival (AISFF) is held in every October in Seoul. The opening ceremony was held on Thursday, October 31st and many famous actors such as Park Seo Jun, S.E.S. Eugene and other celebrities attended. People enjoyed gorgeous atmosphere of film festival.
The 17th screenings were held at CINECUBE and EMU Art Space in Seoul.
5752 works were submitted and 53 works from 35 countries were selected for the competition. Many of the works seemed to focus on women theme. Issues of immigrants in Europe and individual energy in the varied genres in south-east Asia were also the color of this year's selection.
On Friday, November 1st, all six Japanese short films were screened as "The Collections of Short Shorts Film Festival & Asia" at EMU Art Space.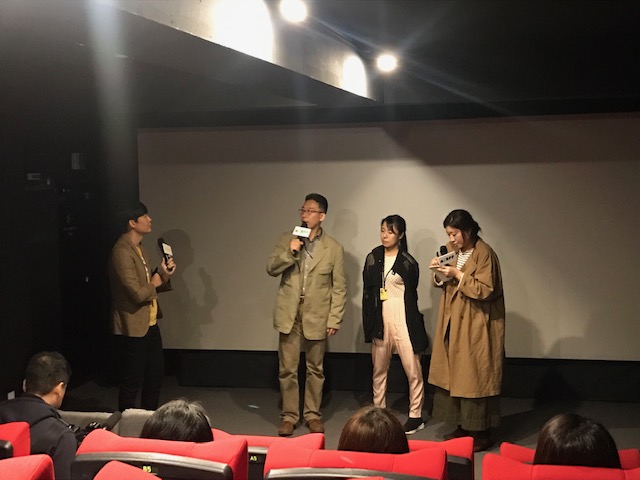 After the screening, I had a greeting and explained about the program exchange between the AISFF and SSFF & ASIA every year and the selection of this program.
For the question what I expect for the relationship of the two film festivals in the future, I answered "As you see Japanese film won the Grand-Prix last year and Korean film won this year at Canne. Power of Asian films have been renowned in the world. I hope we keep communicating each other and attract world's attention.
In addition, director Kimi Yawata, "Beard and Raincoat", made appearance from Japan.
For the question "Where did the idea of this short film come from?" She replied "I was originally interested in fetishism and wanted to shoot a movie based on minority (in society)".
For another question "Is the sound of beard a real sound?",  She said "In fact, the person who was in charge of SE (sound effect) was a Korean guy named Kim, made various sample sound such as rubbing brushes. One of the sound made by rubbing a short hair fit the scene."
The moderator asked about the next work and she told "I think that minority will be the theme and I want to make a story of two LGBT high school girls who are vampires".
The AISFF Grand Prix and other awards will be announced at the closing ceremony on Tuesday, November 5th.
(SSFF & ASIA Festival Director Tono)