Short Shorts Film Festival & Asia 2020
Musical Short Film Pitch Competition Submission Guidelines
Calling for pitches of musical short films! The Best Pitch winner will receive prize money and a chance for production!!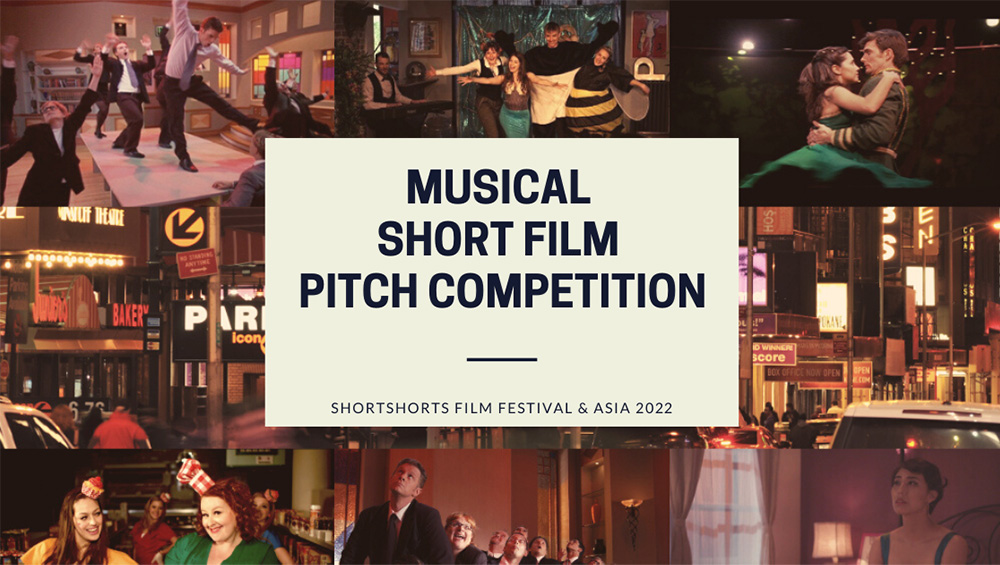 Competition Outline
Short Shorts Film Festival & Asia and AMUSE INC. have joined forces to establish a musical short film pitch competition. AMUSE INC., a company creating and providing high quality entertainment not only in Japan but also outside of the country, is collaborating with the Academy Awards® accredited Short Shorts Film Festival & Asia, one of the largest international short film festivals in Asia. With the aim of supporting works that cross international borders, prize money will be offered to an authentically interesting pitch that deserves to be realized. The competition is calling for entries of any genre from creators such as filmmakers, producers, writers or musicians who have brilliant ideas. The winner will be awarded 300,000 JPY as well as the chance to realize the pitch with AMUSE INC.
Award and Award Money
Amuse Musical Award (Best Pitch): JPY 300,000.-
*Award name and award money are subject to change.
Schedule for Entry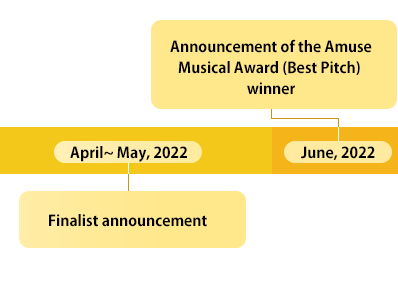 Entry Guidelines
1. Theme
Musical Short Film Pitch
The film should consist of several musical works and/or songs and be fictional. Its projected run time must be under 25 minutes. The music/songs do not need to be played throughout the film.

2. Entry Period
From November 15th 2019 (Fri) to February 29th 2020 (Sat)
3. Entry Fee
Free
4. How to enter
(1)Please upload your short film pitch in addition to completing the designated entry form in order to be considered for the primary selection. The elements listed below must be included in the pitch.
Plot (Under 200 words in English / Under 500 letters in Korean or Japanese)
Photographic images and sound images of the world you envisage
Entrant profile
Link to a show reel of past works or individual links to past works
Projected run time
(2) We will notify entrants that qualify for the next stage of the competition about the results of the primary selection in March 2020. Successful entrants will be required to submit the following materials by a specific date (yet to be confirmed) to enter the next stage of the competition.
Proposed cast and their profile
Proposed location
Screenplay for selected pitch
License status
5. Other Information
1. We can only accept original pitches that do not infringe on the copyrights or intellectual property rights of any third parties, engage in defamation, or infringe privacy rights.
The selection process will be carried out at the discretion of the organizers and may not be disputed by entrants.
We will not respond to any inquiries regarding the selection process or results. For inquiries relating to the entry guidelines, please contact us at submission@shortshorts.org
Personal details submitted in the entry process will be used by the competition organizers to contact entrants with information regarding the competition and the festival.
Privacy Policy  
Entry Form / The Entry period has closed.

AMUSE inc.
Established in 1978.
In addition to many artist management such as Southern All Stars, Masaharu Fukuyama, Perfume, Yasuko Tomita, Eri Fukatsu, Haruma Miura, Amuse Inc. is a comprehensive entertainment company that produces original stage productions including CHIKYU GORGEOUS, and invites and performances of overseas performances.
As a total entertainment corporation, the Amuse Group continues to create high quality entertainment that enables all people to share enjoyment and excitement, including artists and our employees. Our business is divided into the following areas: the Artist Management Business centered on artists' activities; the Media Visual Business, which plans, produces, and sells visual content; the Contents Business, which manages, maintains, and leverages the rights generated by our day-to-day business activities; the Place Management Business, which is independent from the other existing business models and covers, for example, the creation of entertainment spaces utilizing external contents such as theme parks; and other businesses. In recent years, we have expanded the range of businesses such as sports business and facility management. By joining forces and creating synergy within the Amuse Group, we are looking to strengthen our corporate basis as a total culture-producing entertainment group, breaking the barrier of being just a talent agency.
Official Website:https://ir.amuse.co.jp/english/index.html