Announcement of SSFF & ASIA 2024 shortlist (1st)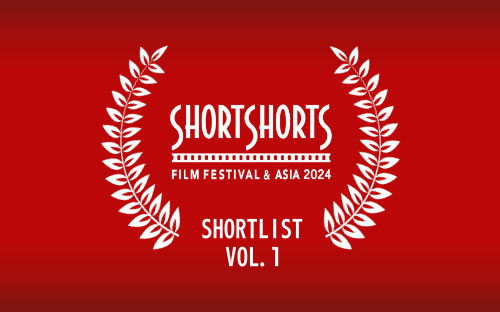 We will release a shortlist from among the entries for the Academy Awards® eligible categories (Live-action Competition, Animation competition, and Non-fiction competition) for the Short Shorts Film Festival & Asia 2024.
In August, we received a total of 826 entries. In particular, there were many entries from the United States, France, the United Kingdom, China, and Canada as well as entries from Bosnia and Herzegovina, Côte d'Ivoire, and Senegal. 40% of the submitted films were directed by female filmmakers, 27% from first time filmmakers, 25 % were student projects. Regarding duration, 51 % were under 15 min, 22 % were under 10min, and 7 % were under 5 min. We have received many submissions about family dramas, human connections, and films that deal with loneliness. Other stories were about facing sickness, family relations, friendships and broken relations. Of course, there were coming of age and first love stories. So, despite the fact that we live in a world where technology is changing our lifestyle, our essence as humans are still our emotions, our senses and feelings!
https://www.shortshorts.org/creators/en  
〜SSFF & ASIA 2024 shortlist(1st)~
~ The name of the film, the director name, and the country name will be listed in alphabetical order by category ~
Title
Director
Country of Origin
■International/Live-action Competition
A Bird Called Memory
Leonardo Martinelli
Brazil
A Moment Frozen
Jack Wake-Walker
United Kingdom
A Short Trip
Erenik Beqiri
France
À toi les oreilles
Alexandre Isabelle
Canada
A very nice guy
Minerva R. Bolanos
Mexico
Bolero
Nans Laborde-Jourdàa
France
Cantata
Dave Fox
Ireland
Come nei rami la pioggia
Yuri Casagrande Conti
Italy
Dead Cat
Annie-Claude Caron, Danick Audet
Canada
Death to the Bikini!
Justine Gauthier
Canada
Food for a Trash Bird
Leevi Axel Pellas
Finland
Fortissimo
Victor Cesca
France
GEORGE
Gregg Chilingirian
United Kingdom
Hedgehog's dilemma
Mateusz Rybiński
Poland
KEEP
Lewis Rose
United Kingdom
L'âge acrobatique
Mathieu Barbet
France
Leaf
Thom Lunshof
Netherlands
Lia IRL
Milda Baginskaite
United Kingdom
Little Queen
Julien Guetta
France
Matterhorn
Anne Madeleine Mancosu
United Kingdom
More Than Friends
Omri Laron
Israel
My Tomato Heart
Benoît Le Rouzès Ménard
Canada
Of(f)love
Alba Pino
Spain
Offline
Mauritz Brekke Solberg, Daniel Fure Schwarz
Norway
Olga's eyes
Sarah Carlot Jaber
Belgium
Palestine Islands
Nour Ben Salem, Julien Menanteau
France
Queen Size
Avril Besson
France
Red, White and Blue
Nazrin Choudhury
United States
Ryan Can't Read
Rhys Chapman
United Kingdom
Sevap/Mitzvah
Sabina Vajrača
Bosnia and Herzegovina
Soles
Kalani Gacon
Australia
Stranger
Jehnny Beth, Iris Chassaigne
France
Summer 2000
Virginie Nolin, Laurence Olivier
Canada
The Birthday Party
Francesco Sossai
Germany
The Hereafter
Ryan Noufer
United States
The Last Slice of Rainbow
Jacopo Ramella Pajrin, Roberto Marra
Italy
The Longest Night
Can Merdan Dogan
Turkey
The Skates
Halima Ouardiri
Canada
The Woodland
Firas Al-Taybeh
Jordan
TIMIS
Awa MOCTAR GUEYE
Senegal
TITS
Eivind Landsvik
Norway
Transylvanie
Rodrigue Huart
France
Wife Carrying
Mathias Rifkiss, Colas Rifkiss
France
■Asia International / Live-action Competition
Burning Blue
Ezra Cecio
Indonesia
Chuff Chuff Chuff
Koi Wang Chao
Macao
Coal
Saman Lotfian
Iran, Islamic Republic of
DANCE GENTLY
ZeRui Guo
China
It Rains When It Will
Zhixin Vanessa Cheng
China
KHOWAB: Castle in the Air
Hemanta Sadeeq
Bangladesh
Life of Cloud
Wylie, Wai Yee Chan
Hong Kong
LUA
Mai Huyen Chi
Viet Nam
Maybe Next Time
Shang-jen Wu
Taiwan
Negative Space
Jeonghui An
Korea, Republic of
NEHEMICH
Yudhajit Basu
India
NO PLACE FOR OLD MEN
Anson Chu
Hong Kong
Painting
Shann-Jiun You
Taiwan
Passing
Gisela Levy
Indonesia
Primetime Mother
Sonny Calvento
Philippines
Real Talk
Wei Kai Huang
China
Red Fruit,Blue Sea
Rosing Mao
China
The First Film
Piyush Thakur
India
The ghost fire
Zhan YANG
China
The Nap
Joonseong Ahn
Korea, Republic of
The Steak
Kiarash Dadgar Mohebi
Iran, Islamic Republic of
The Storm
Tang Wendi
China
The Sun In My Heart
Yao Ge
China
Titanic, suitable version for Iranian families
Farnoosh Samadi
France
Treasure by the River
Hanjie Bao & Manting Huang
China
Two Funerals
Huawei Sun
China
UFO
Hamid Hosseini & Mehdi Hosseini
Iran, Islamic Republic of
What If
Yanghuixiao Gao
China
Wooden Toilet
Zuri Rinpoche
Bhutan
XO
Samrat DasGupta
India
You're Happy, It's Okay
Laura Low
Malaysia
■Japan / Live-action Competition
The New World
Tomomi Muraguchi
Japan
ITAKO
Yuta Tanno
Japan
Oyu
Atsushi Hirai
France/Japan
Shoe Lover
Saki Matsumoto
Japan
Like a planet
SHEIKH M Haris
Japan
Minamoto
Takuya Mera
Japan
■Animation Competition
A Crab in the Pool
Alexandra Myotte & Jean-Sébastien Hamel
Canada
BOG
Éabha Bortolozzo & Jack Kirwan
Ireland
Bye Bear
Jan Blitzer
Germany
CYCLEPATHS
Anton Cla
Belgium
Dar Saaye Sarv
Shirin Sohani & Hossein Molayemi
Iran, Islamic Republic of
Dodo
Yi Luo
Germany
EASTER
André Ruivo
Portugal
ever ReDreamer
Ishizuka Eisuke
Japan
Holy Men
David Lovric
Croatia
Margarethe 89
Lucas Malbrun
France
PURGA
Gintarė Valevičiūtė Brazauskienė & Antanas Skučas
Lithuania
Quem Salva
Laure Devin, Maxime Bourstin, Nathan Medam, Charles Hechinger & Titouan Jaouen
France
Saleeg
Afnan Bawyan
Saudi Arabia
She and Her Good Vibrations
Olivia Griselda & Sarah Cheok
Singapore
Spring
Pernille Kjaer
Denmark
Sweet Like Lemons
Jenny Jokela
United Kingdom
Tapir Memories
Pedro Nel Cabrera Vanegas
Switzerland
Temporarily Removed
Dotan Goldwaser & Yoav Brill
Israel
The Garden of Heart
Olivér Hegyi
Hungary
THE SONG OF FLYING LEAVES
Armine Anda
Armenia
Wedding on the Execution Ground
Zilai Feng
United States
Worry World
Jessica Patterson
Ireland
■Non-Fiction Competition
ALFRED
Nikolas Meyberg
Germany
Di Sarno- The story of Emilio's Ballato
Johannes Kroemer & Lou Carvell
United States
Fragments
Marie-Lou Béland
Canada
Jack and Sam
Jordan Matthew Horowitz
United States
Mercy
Xinyue Wu
United States
Pitch Black
Guillym Davenport
Australia
Quoting Masterpieces
Davidse Koert
Netherlands
Rising Nations
Michael Kirby Smith
United States
She Sings for the World
Beau Han Bridge
Canada
The Waiting
Voker Schlecht
Germany
Then Comes The Body
Jacob Krupnick
United States
Tracing Imperfection
Chehade Boulos
United States
The Journey | The Future of Kazakh Nomads
Kazuya Isobe
Mongolia/Japan
Festival selections will be made from among the shortlisted films. The shortlist films will be selected monthly until the end of March, 2024 and will be uploaded on the festival's official website by the end of April, 2024. This month's shortlist is mainly for films submitted by the end of August, but the timing of the announcements may vary.