Shortlist #1 for the 2023 Global Spotligt Award is announced!
Short Shorts Film Festival & Asia (SSFF & ASIA) , one of  the largest international short film festivals in Asia, accredited by the Academy Awards(R) has announced  #1 Shortlist for the 2023 Global Spotlight Award.
The Global Spotlight Award is given to a work that conveys the present of the world in a changing world and opens up new possibilities for a filmmaker and supports short films that unites the world.
In 2021, Travon Free's 2020 Black Lives Matter themed, Oscar(R) winning short film "Two Distant Strangers" was selected and in 2022, we were proud to announce the selection of NFT animation "Roborovski" (Australia) by Tilda Kobham-Harvey and Dev Petal ("Hotel Mumbai") was announced as the Global Spotlight Award in June and the directors greeted the audience with a video acceptance message.
For the 2023 Global Spotlight Award, we'll announce the shortlist every month from December and the finalisy will be told on June 4th.
SSFF & ASIA has annuonced the #1 Shortlist today as: The Critics Company's "Ogun Ola : War is Coming" which was produced & narrated by Morgan Freeman and Indesia's R&B singer NIKI's "But I'm Letting Go".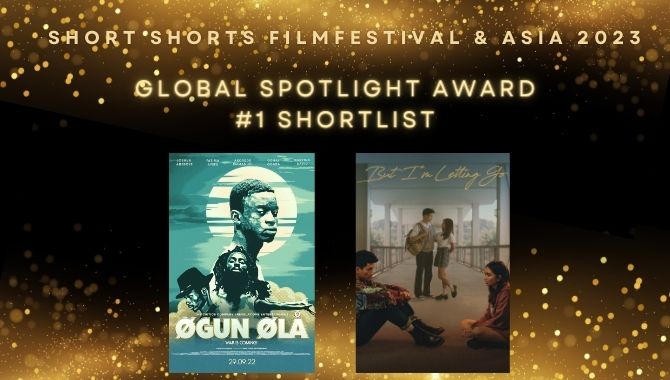 ★Critics Company   "Ogun Ola : War is Coming"
Directed by Godwin Gaza Josiah
 Produced by Morgan Freeman
Ogun Ola: War is Coming is a short film by The Critics – a filmmaking collective based in Kaduna, Nigeria. WAR IS COMING follows the story of Óla, a brash teenager who discovers he is the reincarnation of a demigod, spiraling into destiny unprepared for the events that come as a result of this discovery.
★NIKI  "But I'm Letting Go"
Directed by Isaac Ravishankara
Nicole 'NIKI' Zefanya delivers a poignant performance as a young woman experiencing the ache and elation of first love. Set to the music of NIKI's album "Nicole," this touching story captures the immediacy of love and loss and the ability of music and memory to transport us to another time.