Announcement of SSFF & ASIA 2023 Shortlist (#3)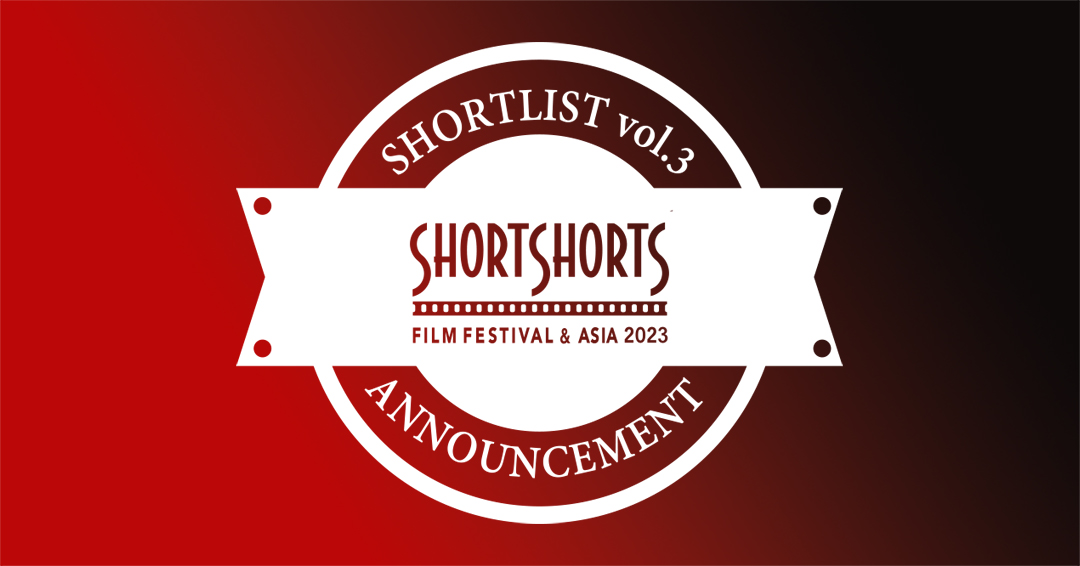 Since August, 2021, the Short Shorts Film Festival & Asia began releasing a shortlist every month from among the entries for the five Academy Awards® eligible categories (International, Asia International, Japan, Animation, & Non-fiction) for the following year's festival. For next year's 25th Anniversary edition of the SSFF & Asia 2023, in October this year, we received a total of 470 entries. In particular, there were many entries from the United States, France, Spain, and China. About 40% of the submitted films were directed by female filmmakers and 30% from first time filmmakers. There were many dramas about immigration issues & its trials & tribulations. Many stories were of the female experience such as postpartum depression, anxiety, & fatigue through the eyes of new mothers. As usual, we are receiving outstanding short films in the Non-fiction & Animation competitions with France especially coming on strong with animated works.
Now only one month remaining until the submission deadline. We're looking forward to many more submissions from you. Get them in before the rush!
https://www.shortshorts.org/creators/en  
〜SSFF & ASIS 2023 shortlist(3rd)~
~ The name of the film, the director name, and the country name will be listed in alphabetical order by category ~
 Title
Director
Country of Origin
■International/Live-action Competition
Androgenic Alopecia
Salvador Sunyer
Spain
Captive
Preston Peterson, Jason Boesch
United States
CARLA
Guemra Kamel
France
Endless Sea
Sam Shainberg
United States
ESTRELLAS DEL DESIERTO
Katherina Harder Sacre
Chile
Eternal Happiness
Isa Luengo, Sofia Esteve
Spain
Facies
Carlos Moriana, Raúl Cerezo
Spain
Found You
Ragne Mandri
Estonia
Fresh
Marie-Julie Baup
France
Iago and Tristan
Miguel Ibáñez Monroy
Spain
In The Long Run
Yousef Assabahi
Yemen
My Name is Arnold
Arnold Lim
Canada
Quiet
Hèctor Romance
Andorra
Sparrow
Marcin Janos Krawczyk
Poland
The Ballad of Maddog Quinn
Matt Inns
New Zealand
The Old Young Crow
Liam LoPinto
United States
THE SHIFT
Amalie Maria
Denmark
Yama
Andreas Vakalios
Greece
■Asia International / Live-action Competition
A Roadside Banquet – AFI Thesis
Peiqi Peng
China
East Coker
Wang Hanxuan
China
Fly Away, Bird
Romil Kumar Jain
India
Kwits
de la Torre Raz
Philippines
Morning Begins at 4:30
Ivan Law
China
On Up The Forking Road
ZHENGYU JI
China
School Uniform
Ye-ram KIM
Korea, Republic of
seven minutes and thirty-one seconds
Solmaz Gholami
Iran, Islamic Republic of
Silkworm.
Amir Honarmand
Iran, Islamic Republic of
Unfamiliar Familiar
Hae-Sup Sin
South Korea / Switzerland
■Japan / Live-action Competition
Kaiju Girl
Takafumi Sakabe
Japan
Scapegoat
Shun Tachizono
Japan
Serpent in a woman
Rie Sasaki
Japan
When She Dresses Up
Yoshika Nakayama
Japan
たまには船にでも乗ろうか
Yosuke Sumi
Japan
■Animation Competition
Ashkasha
Lara Maltz
Spain
ECHOES
IVÁN ORDÁS
Spain
Epicenter
Hee-yoon Hahm
Korea, Republic of
ROALD
BIGACHE Clara, CHAVALLE Laurent, CHENE Julie, CHOPINET Thibault, GAUCHERON Armand, LHEUREUX Alexis & PRONE Maxime
France
The Bolt's Story
MohammadReza Alimorad
Iran, Islamic Republic of
The Well
Peter Stanley-Ward
United Kingdom
TRAJECTOIRE
BEGUIN Guillaume, ESQUER Brice, HURTAK Nathalie, LAYRE Noemie, LONGO Serena, ROUSSEAU Leon, SAVARIT-BODIN Allan, WALLEZ Clement
France
Zoo
Tariq Rimawi
Jordan
■Non-Fiction Competition
Black Summer
Felix Dierich
Germany
Lake of death and Devil's Gold
Kazuya Isobe
Indonesia
The Re-education of Ji Zhihao
Tian Macleod Ji
United Kingdom
Ulf Nawrot – 40.000 Post-Its
Nolte Fabian
Germany
Festival selections will be made from among the shortlisted films. The shortlist films will be selected monthly until the end of March, 2023 and will be uploaded on the festival's official website by the end of April, 2023.This month's shortlist is mainly for films submitted by the end of October, but the timing of the announcements may vary.