Announcement of SSFF & ASIA 2023 Shortlist (#4)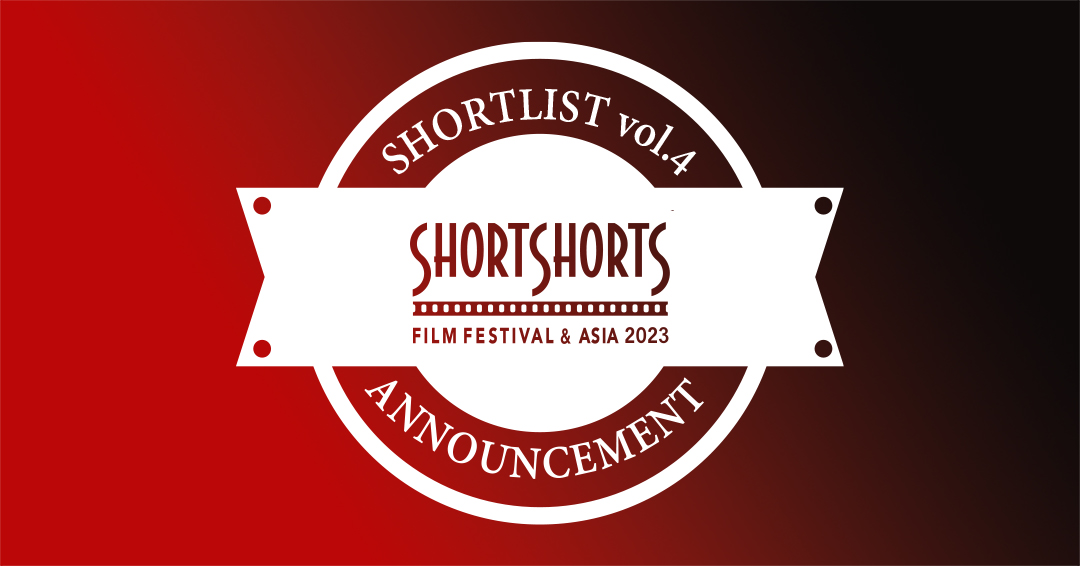 Since August, 2021, the Short Shorts Film Festival & Asia began releasing a shortlist every month from among the entries for the five Academy Award© eligible categories (International, Asia International, Japan, Animation, & Non-fiction) for the following year's festival.
For this year's 25th Anniversary edition of the SSFF & Asia 2023, in November this year, we received a total of 797 entries. In particular, there were many entries from the United States, Japan, France, China, and United Kingdom. 20% of the total submissions were from Japan. In addition, 34% of the submitted films were directed by female filmmakers and 28% from first-time filmmakers. There were many stories about the younger generation struggling between conforming to society or alternative ways of life, middle-age characters facing life changes and reconsidering what's more important to add value to their lives. As for genres, we are receiving more horror/thriller films than last year but with added elements of comedy .
Today is the final day to accept submissions in the 5 main competitions as well as the Cinematic Tokyo and the Smartphone Film Competition supported by Sony's Xperia. We hope to see your submissions here!  
https://www.shortshorts.org/creators/en  
〜SSFF & ASIS 2023 shortlist(4th)~
~ The name of the film, the director name, and the country name will be listed in alphabetical order by category ~
 Title
Director
Country of Origin
■International/Live-action Competition
Bean Feasa // Wise Woman
Daniel Butler
Ireland
Beyond Teruel
Manuel Omonte
Spain
Burden of proof
Ivar Aase
Norway
BURN IT ALL
JACK Hickey
Ireland
CORA IN REFLECTION
Ash Brandon
United States
Daisy
Torbjörn Edwall
Sweden
Esperanza
Shruti Parekh
United States
Fracture
Panagiotis Fafoutis
Greece
FUNDI
REMI PARISSE
France
Get Home Safe
Tamara Denić
Germany
Headspace
Aisling Byrne
Ireland
Hold Up
Alex Rollins Berg
United States
Lava
Carmen Jimenez
Spain
Les Désancré.e.s
Laura Lambert, Hélène Manescau
France
Piedra Dura
Rommel Villa
Bolivia, Plurinational State of
Romeo
Tynystan Temirzhan uulu
Kyrgyzstan
Sunset at the Sea
Jina Miao
United States
Tabanca
Lauren Marsden
Canada
The middle of the garage
Lisa Bolduc
Canada
The Other End of the Street
Kálmán Nagy
Austria
Voice Activated
Steve Anthopoulos
Australia
Volver Al Sur – Returning South
Sofia Ayala
Germany
Your Guardian
Mimi Vlaovic
Serbia
Lola vs Ed
Brinkman Lars
Netherlands
■Asia International / Live-action Competition
44
Meera Krishnan
India
48 Hours
Azadeh Moussavi
Iran, Islamic Republic of
Evacuation of Mama Emola
Priambodo Anggun
Indonesia
ETERNAL SUNDAY
Lyu Rhyme
China
File
Sonia K. Hadad
Iran, Islamic Republic of
Floating on Water
Su,Yi-Hui
Taiwan
Giddh (The Scavenger)
Manish Saini
India
HEIRLOOMS
Devina Sofiyanti
Indonesia
Nowhere else
LEE KYEONG WON
Korea, Republic of
Raised in Water
Janus Victoria
Philippines
The Suitcase
Saman Hosseinpuor, Ako Zandkarimi
Iran, Islamic Republic of
■Japan / Live-action Competition
CALM TIME
Rino Tsuneishi
Japan
LET'S MAKE BLUEBERRY JAM
Yusuke Hayamizu
Japan
One minute walk to love in cosplay
Ryousuke Tanaka
Japan
Six of Sayoko
Yuji Shiota
Japan
■Animation Competition
Amok
Balázs Turai
Hungary
Candlelight
Scott Newton
United Kingdom
Crab
Piotr Chmielewski
Poland
Distance
Jung-Hsin Hu
Taiwan
Eclipse Diplomacy 
LUTON Cesar, PASQUIER Achille, LALLAOUI Selim, BAILLY Clemence, MECHIN Axel
France
FALLING
Daniel Sousa, Dean Hamer, Joe Wilson
United States
Kafka's Doll
Bruno Simões
Spain
pinto
Sei Ohara
Japan
Spoon
arthur chays
France
Til We Meet Again
Ülo Pikkov
Estonia
■Non-Fiction Competition
Afterlives
Michael Heindl
Austria
Becoming Yamazushi
George Yamazawa
United States
The Awakening of the Vietnamese Elephant
Teresa Carante
Viet Nam
Festival selections will be made from among the shortlisted films. The shortlist films will be selected monthly until the end of March, 2023 and will be uploaded on the festival's official website by the end of April, 2023.This month's shortlist is mainly drawn from films submitted by the end of November, however the timing of the announcements may vary.