Topics /
Comments from the Official Competition Winner!
2019/07/12
SSFF & ASIA 2019, which closed on Sunday, June 16, 2019, has received comments from the award winner of the Official Competition.
Congratulations everyone!
---
International Competition Best Short Award
"Brotherhood"
Director:Meryam Joobeur
Q: Please share your comments for winning this award.
A:
My hope was always that 'Brotherhood' can humanize Arab/ Muslim reality to the rest of the world so the award from Short Shorts was extremely touching and important to me because it signifies that my hope has become reality.
It's quite humbling to know 'Brotherhood' has resonated with Japanese audiences across the world and I'm excited to know that it will be part of a short film tour across Japan and Malaysia where it will have the chance to reach more audiences.
Q: Anything you would like to share about your film?
A:
The journey of Brotherhood started with a chance meeting in February 2016 with two red-haired Tunisian brothers, Malek and Chaker, in the middle of nowhere in the North of Tunisia.
The two brothers were leading a flock of sheep across a lush green hillside when I spotted them. I asked Malek and Chaker if I could take their photograph but they refused so I continued my trip.
However, this chance encounter deeply marked me; the contrast of their unique faces filled with freckles against the green landscape, and I kept thinking of them.
I then learned that a neighbouring town Sejnan had experienced a surge of radicalization post the Tunisian revolution in 2011 that ousted the dictator Ben Ali. A higher than average percentage of men from Sejnan had gone to Syria.
This knowledge and the encounter with the brothers became the basis for 'Brotherhood.' I knew I wanted to address this social issue through the intimate lens of one family and I also knew that I wanted the brothers to act in the film.
So… A year later I went searching for them without knowing their names and where I had found them. I searched from village to village and finally landed on their doorstep with the script for Brotherhood.
I convinced them and their younger brother Rayene to act in the film. I never doubted my instinct that there was something special about them and the bond between us deepened in the weeks leading to the shoot, which took place in March 2018.
Q: Any filmmakers or films that have inspired your work?
A:
I admire filmmakers who explore a wide range of genres while infusing their own very distinctive cinematic voice such as Luca Guadagnino, Paul Thomas Anderson and Denis Villenueve.
I also love the films of Miyazaki, which I discovered as a child. I admire his ability to soulfully capture the essence of humanity through such imaginative characters and worlds.
---
Asia International Competition Best Short Award, Governor of Tokyo Award, and  Grand Prix George Lucas Award
"Down There"
Director:Zhengfan Yang
Q: What is your comment on award winning.
A:
My past filmmaking is awarded, and my future filmmaking is encouraged.
Q: Anything you would like to share about your film?
A:
Down There was made with an extremely small crew, yet more than 30 actors – all non-professional – were involved.
The image was shot in my hometown in China over the course of one night, yet all the sound – more than 20 sound tracks – were recorded and mixed in post production in Chicago, U.S.
Q:Any filmmakers or films that have inspired your work?
A:
Too many great filmmakers and films that inspired my works and influenced my life.
Here are the two that have stayed with me since I started making films: Stanley Kubrick's 2001: A Space Odyssey and Edward Yang's Yi Yi.
---
Japan Competition Best Short Award, and Governor of Tokyo Award
"My Little Goat"
Director:Tomoki Misato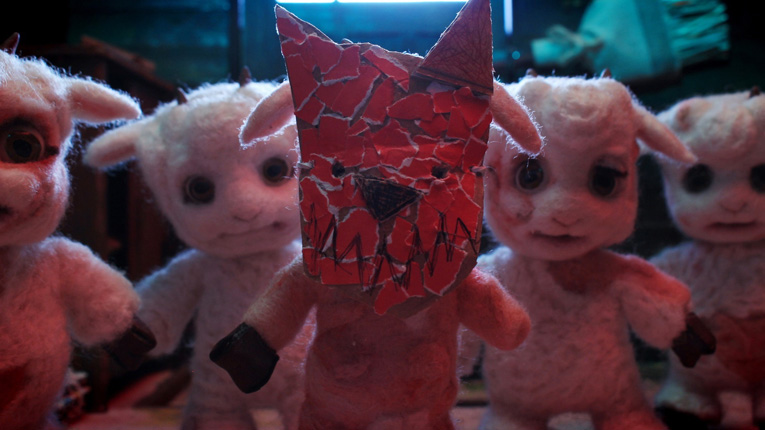 Q: What is your comment on award winning.
A:
Thank you very much for selecting my film for such a prestigious award. I can never forget the surprise I felt when I suddenly saw my name appear on the display screen during the Awards Ceremony. I am grateful to the committee, staff and all the audiences who participated at the festival. Motion pictures is something that dominates a viewer's precious time.
That's why I created this film with the intention of including expressions, stage direction and a message that satisfies the audience after watching it. I was also careful not to bore the audience in the middle of the story.
All in all, I believe that I was able to accomplish these goals in receiving this award at SSFF&ASIA. Although expectations for me may be high after winning this award, I will continue to take the time to create what I believe in.
Lastly, I'd like to thank my music composer, cast, and my work mates from my MDA, and my family. Thank you so much!
Q: Anything you would like to share about your film?
A:
I'd like the viewers to take a close look at the characters' facial expressions. In order for it to have a lively look and movement, I maintained 24 frames per second as I shot in time-lapse. I struggled the most in the action scene, stacking 6 different puppets together, and moving the camera dynamically.
Q: Any filmmakers or films that have inspired your work?
A:
I got inspiration from the animated series "Courage the Cowardly Dog", and the film "Coraline".
---
Comments from other award winners have also been received, and will be published again later.
Congratulations to all the winners!
Archives
Project
Information