Short Shorts Film Festival & Asia 2022 Screening in Autumn Begins
Short Shorts Film Festival & Asia 2022
Screening in Autumn 
Award winning 15 Short Films are Globally Streamed  
at Online Venue starts from Sep.29
Audience of the online venue and the people who come to
the festival will receive an original SSFF & ASIA 25th Anniversary NFT
Academy Awards® qualifying and one of the largest film festivals in Asia, Short Shorts Film Festival & Asia (SSFF & ASIA) is going to have a screening in Autumn from September 29th to October 23rd at Online Venue & Tokyo Photographic Museum of Art.
URL:https://shortshorts.org/2022autumn/en/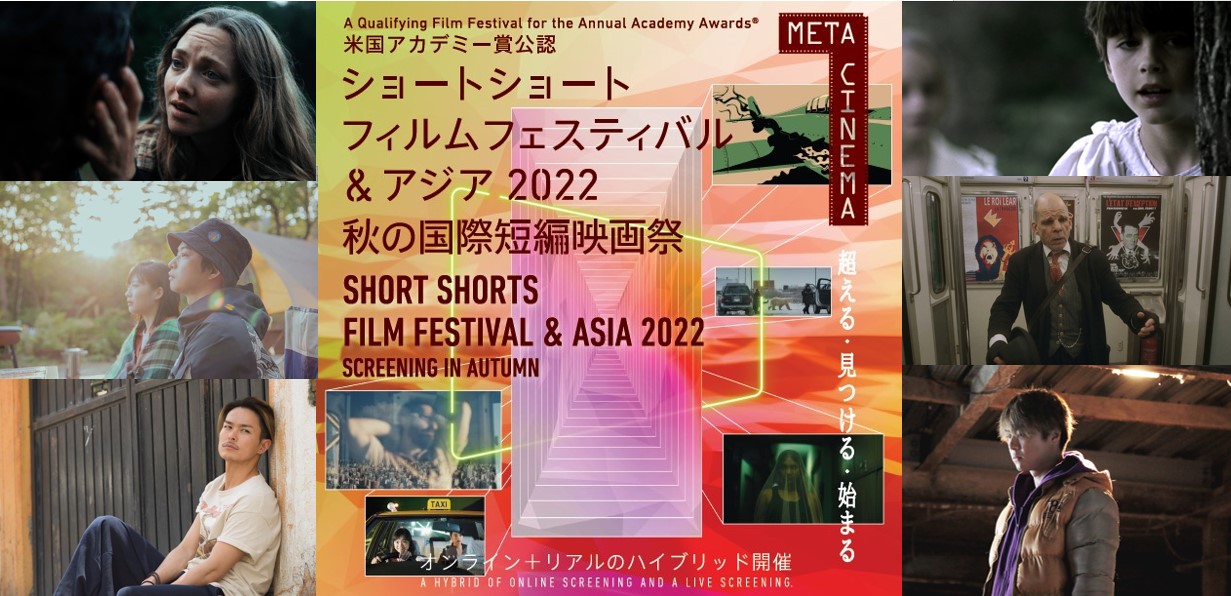 SSFF & ASIA have received 5,720 films from 126 countries and regions for the 24th SSFF & ASIA this June.
For the Screening in Autumn, winner of the Grand Prix, George Lucas Award "Warsha" by Dania Bdeir, "Skin & Bone" starring AmandaAmanda Seyfried , "Sweet Tooth" starring Timothée Chalamet, and other short films that won SSFF & ASIA 2022 will be showcased.
16 Award Winning Shorts including "THE LIMIT Taxi Girl" (Japan Competition), "Nuisance Bear" (Non-Fiction Competition), Dark Yellow (Asia Competition Audience Award), Tokyo Rain (Cinematic Tokyo Competition) , "Barefoot Empress" (Biogen Award), "Final Deathtination" (Animation Competition) , "Borekas" (International Competition Best Actor Award), "sparklers" (Japan Competition Best Actor Award) , "AIM" (Branded Shorts of the Year Japan Category) will be globally streamed online.
Audience of the online venue and the people who come to the festival will receive an original SSFF & ASIA NFT. With this NFT, you will be invited to the special anniversary event of the SSFF & ASIA 2023 in next June.
Outline of SSFF & ASIA 2022 Screening in Autumn
Dates:Online  : Sept 29(Thurs)~Oct 23(Sun)
Venues:Oct 21(Fri)~23(Sun)
※Screening time may differ for each program. Please check the website for details.
Venues:Online & Tokyo Photographic Art Museum
Programs:Screenings of Winners of SSFF & ASIA 2022, Horror Short Films、Shocking Collection、Discover Beauty Program. Events include Online seminar with BRANDED SHORTS, Creator's Seminar、Short Stories Panel Discussion and more.
Price:Online Theater Subscription Passport (5.00USD) will be on sale from Sept 29th(Thurs)
Reservations:Seat reservations for the screening at the Tokyo Photographic Art Museum will be accepted on the website from Sept 29th 14:00~ (Thurs)
Website:https://shortshorts.org/2022autumn/en/
Organizer:Committee for Short Shorts Film Festival Asia
Co-Organizer:Tokyo Metropolitan Government
Patronage:J-WAVE
Allied Event: The 35th Tokyo International Film Festival
※There might be changes in the program due to COVID.
In order to prevent the spread of COVID-19, we will ask all visitors to wear masks and measure their temperature when entering. We will also disinfect doorknobs and chairs thoroughly, ventilate regularly. More details will be posted on the website.