Pitch Competition for Musical Short Films
Pitch Competition for Musical Short Films
By Academy Awards® accredited
Short Shorts Film Festival & Asia
and AMUSE INC., a company creating and providing
high quality entertainment
~The Best Pitch winner will get a chance for production!!~
The Academy Awards® accredited Short Shorts Film Festival & Asia, the biggest international short film festivals in Asia & AMUSE Inc., who provide entertainment content from Japan to the world have joined forces again for the 2nd Musical Short Pitch Competition to support the development of new ideas & creativity. The competition is calling out for entries not only from filmmakers but also from a wide range of creators, artists & writers with a brilliant idea. The winning pitch, the AMUSE Musical Pitch Award, will be announced at the SSFF & ASIA 2021 due to be held in June. The winner will receive a cash prize & the chance to realize the pitch with AMUSE INC.
https://www.shortshorts.org/en/creators/2021musical.php
SSFF & ASIA will be in its 23rd edition next year & as an international short film festival, have focused on developing the new genre of "music x film" style of filmmaking through our worldwide network of young filmmakers, production companies & actors while expanding our Music Shorts & Music Video competitions.
AMUSE has not only produced entertainment content in Japan, but has also invested in the Broadway musical "Kinky Boots," which was nominated in 12 categories at the 67th Tony Awards & won six awards, including the Best Musical Award & brought to Japan the gospel musical "MAMA, I WANT TO SING" in the past. AMUSE has invested, produced & brought to Japan high-quality international entertainment.
By combining our organizations, we will gather innovative and unique projects & ideas from creators worldwide & develop those projects as entertainment both in Japan and abroad. We would greatly appreciate your cooperation with publicity for this project.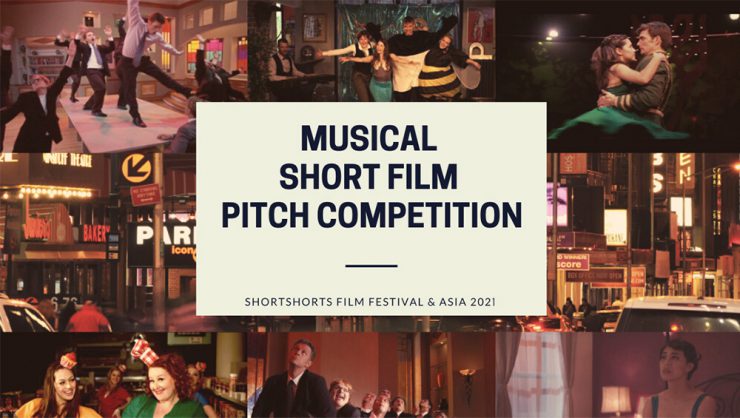 Entry Guideline
<Submission theme>Musical Short Film Pitch
Music & songs. Limited to 25-minute, live action short film with more than musical number.
Does not need to be 100% music & songs.
<Submission period>11/25/2020 ~ 02/28/2021
<Submission fee>Free
<Awards & prizes>Finalists announced tentatively April or May, 2021.
Best Pitch Award winner announced June, 2021 during the Short Shorts Film Festival & Asia 2021.
AMUSE Music Award (Winning Pitch): ¥300,000 *Awards & prizes subject to change.
**Submission guidelines on the following page.
<How to enter>
(1)Please upload your short film pitch in addition to completing the designated entry form in order to be considered for the primary selection. The elements listed below must be included in the pitch.
Plot (Under 250 words)
Photographic images of the world you envisage
Entrant profile
Sound images (the original songs preferred, otherwise please include the names of specific composers and singers or song titles.)
Link to a show reel of past works or individual links to past works
Projected run time
(2) We will notify entrants that qualify for the next stage of the competition about the results of the primary selection in March 2021. Successful entrants will be required to submit the following materials by a specific date (yet to be confirmed) to enter the next stage of the competition.
Proposed cast and their profile
Proposed location
Screenplay for selected pitch
License status
Budget estimate
Other Information
We can only accept original pitches that do not infringe on the copyrights or intellectual property rights of any third parties, engage in defamation, or infringe privacy rights.
The selection process will be carried out at the discretion of the organizers and may not be disputed by entrants.
We will not respond to any inquiries regarding the selection process or results. For inquiries relating to the entry guidelines, please contact us at submission@shortshorts.org
Personal details submitted in the entry process will be used by the competition organizers to contact entrants with information regarding the competition.
AMUSE INC. https://www.amuse.co.jp/en/
AMUSE Inc. was formed in 1978. A comprehensive entertainment production company that handles management for major artists like the Southern All Stars, Masaharu Fukuyama, Yasuko Tomita, & Eri Fukatsu among many others as well as production & sales of film & TV content. In addition, production & international staging of Chikyu Gorgeous & other original stage productions.
AMUSE Inc. is organized with separate arms for event-related business, music & film business, commercial advertisement production business, & recently has expanded into sports business & venue operations.
The synergy within AMUSE Inc. has allowed us to leap over the boundaries of being just an entertainment production company while strengthening our base business into a company of imagination & possibilities as a complete entertainment group.