LINE UP
11:00~12:30
13:00~14:30
15:00~16:30
17:00~18:30
19:00~20:30
10/27
thu
A
B
C
A
B
10/28
fri
C
A
B
C
A
10/29
sat
B
C
A
B
C
10/30
sun
A
WS 14:00-18:00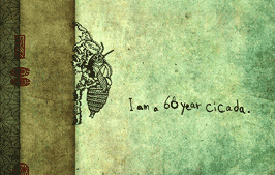 663114 

Isamu Hirabayashi/Japan/8:00/Animation/2011
I am a 66-year-old cicada. There was a big earthquake. There was a big tsunami. There also was a big accident.

Venice International Film Festival 2011 (Italy) Orizonti Competition

A Purpleman 
Tak-hoon Kim, Jin-young Yoo, Jin-ho Ryu, Sung-ho Park/South Korea/13:01/Animation/2010
18 year-old North Korean Hyuk is released from prison and succeeds in escaping from the North to South Korea. He now lives there but is disheartened by poverty and discrimination. He's not red, the color of the North, nor blue of South Korea. What color i

SSFF & ASIA 2011 Asia International Competition Best Short Award/Governor of Tokyo Award
ION Animation Game and Short Film Festival 2010 (Turkey)
Tampere Film Festival 2011 (Finland)
San Francisco International Film Festival 2011 (USA)


Scumbag, Pervert, and the Girl in Between
Bruce Hwang Chen/Taiwan・USA/15:00/Comedy/2010
A high school outcast tries to impress a girl by retrieving her stolen pair of P.E. shorts from a town pervert.

SSFF & ASIA 2011 Asia International Competition nominated
Taipei Golden Horse International Film Festival 2010 (Taiwan)
Slamdance Film Festival 2011 (USA)
Hong Kong International Film Festival 2011


Smile Bus 

Sang-joon Park/Japan/22:52/Drama/2011
One day a young Korean girl, Yuna (Hyun-kyoung Ryu), decides to pack up and leave, she heads for Japan where she takes a job as a tour guide for visiting Koreans to Japan, Hot on her trail is her ex boyfriend Sang-ho (Gun-hyung Park) who follows her to Japan in order to win the still confused Yuna back, but will she get back with him? "Smile Bus" is a comtempory re-working of the classic Kamakura and Enoshima love story.

Japan-Korea Tourism Promotion Project Special Presentation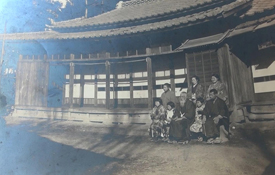 beard
Shunji Dodo/Japan
Director himself who is 64 years old, and Momo, his dog, are in a living room.
Picture of his head family (taken in 1931)
Picture of house and family with his grandfather centred
Picture of his father being soldier (taken on the day before the February 26th Incident)

In 1981
VTR (Sony Beta) about shaving showing himself (34 years old) and his second son (4 years old).

The family picture (positive) of the grandfather taken by a Polaroid camera is sinking into water.
The negative film of the Polaroid and the Sun.

2011.6.4, Marriage of the second son (34 years old)
From the banquet scene changed to the image of pregnant belly of the wife.

The garden of his house and Momo.

Shunji Dodo 

1996: Received an award by the Photographic Society of Japan for Rakudo Kii Hanto.
1999: Received the Ina Nobuo Award with his work Sennen rakudo / A Radiant Land with Thousands of Years
2007: Received the Arts Award by the Japan Society for Arts and History of Photography
2011: Received the Shashin no Kai Award, the Higashikawa Award


-No Title-
Patti Smith/Steven Sebring/USA
Patti whispers people have the power.
The power to dream.


Patti Smith 

Born in Chicago, 1946. Grew up in a rural town of New Jersey as the oldest of four siblings. In 1996, met photographer Steven Sebring and began f ilming" Dream of Life". In 2004, released the album "Trampin" and later, inducted into the Rock and Roll Hall of Fame, alongside Van Halen and R.E.M in 2007. In 2010, appeared in Jean-Luc Godard's Film Socialism.
To this day, remains active in live performances, art, writing and deeply involved in social issues by participating in numerous human rights organizations.



Steven Sebring 

Born in South Dakota, US, 1965. Raised in Arizona. Photographer. In 1995, met Patti Smith through Michael Stipe of R.E.M. Inspired by her performances, began f ilming
"Patti Smith:Dream of Life"over the course of 11 years, marking his debut feature f ilm.


Alone Together
Jia Zhang-Ke/China
The wife walks across the bridge over the lake to see her husband. The husband makes a living by offering massage at the pavilion by the lake. The son comes home after school, and he stares out of the window by himself. The scenery of the lake is in a haze of smog. The chimneys and the pipes of the distant factory are faintly visible. Everyone in the family that lives nearby the factory has something in mind: the father blows the sand away from the son's eye; the son shakes the mother's arm; the wife applies burning liquor on the husband's injured back.

Jia Zhang-Ke 

1999:「一瞬の夢」(小武 / Xiao Wu)
2000:「プラットホーム」(站台 / Platform)
2002:「青の稲妻」(任逍遥 / Unknown Pleasures)
2004:「世界」(World)
2006:「長江哀歌(エレジー)」(三峽好人 / Still Life)
2008:「四川のうた」(二十四城記 / 24 City)
2010:「海上伝奇」(I Wish I Knew)

LA DUNETTE
Catherine Cadou/France
Eustache. This summer has been quite rainy and the rain links me to March 11th in Japan. But here we are in Paris and the bells of the church ring every hour and half hour from 7:30 am to 8pm. We live with the sounds of the life and the street musicians outside. It is very lively, we are right in the center of Paris, and our life is a mosaic like our bed cover. The walls are covered with a mosaic of books and paintings by artist-friends. Life is a mosaic and we try to find the harmony among the colors of the days

Catherine Cadou 

2006 : KIBA TOKYO MICROPOLE /住めば都
2011 : KUROSAWA'S WAY /黒沢 その道(Cannes Film Festival Official Selection /カンヌ映画祭正式出品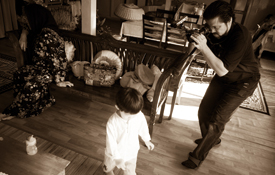 Mohd Naguib Razak/Malaysia
A young boy who is here at the house now.
Myself who was at the house when I was small.
The house which my son is looking at now.
The house in the faded memory of my childhood.


Mohd Naguib Razak 

1999 : ANAK DUYUNG (CHILD OF MERMAID)
2001 : THE BOAT-MAKER AND THE SEA
2004 : GLASS ENCLOSURE : TOKYO INVISIBLE
2009 : SPELLBOUND : CRIMES OF THE MIND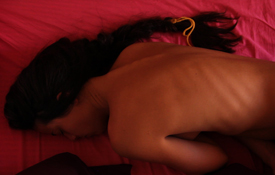 A Moment on Earth
Pedro Gonzalez Rubio/Mexico
A man and a woman one summer morning. She sleeps. He watches her breathing. A moment of
peace on earth. A picture of the place where everything began and everything continues.

Pedro Gonzalez Rubio 

2005 : TORO NEGRO. Documentary. (Co-director
2007 : COMMON GROUND Documentary/Making of Babel.
(Co-director ・ DOP)/ COMMON GROUND(コモン・グラウンド)、 ドキュメンタリー / 「バベル」メイキング(共同監督 ・ 撮影監督)
2010 : ALAMAR(Director ・DOP・Editor・Co-producer)/ ALAMAR(海へ)(監督)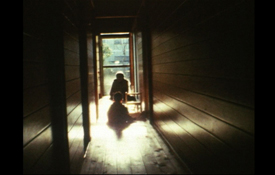 HOME
Naomi Kawase/Japan
A young girl living in that moment. Her life is being helped along. The sound of the wind, the light. All of that is a memory, or perhaps a chronicle. And the mother succumbing to her old age, is she nearing the end of her days… A child is born, the years accumulate, and time just marches on without remorse. An enduring space called "home" and people encountering "light." What bliss.

Naomi Kawase 

2002: Letter from a Yellow Cherry Blossom
2003: Shara
2006: Tarachime -birth/mother
2007: The Mourning Forest
2008: Seven Nights
2010: HOTARU 2009 version
2010: GENPIN
2011: HANEZU


(c) 3.11 A Sense of Home Films