Announcement of SSFF & ASIA 2022 shortlist (4th)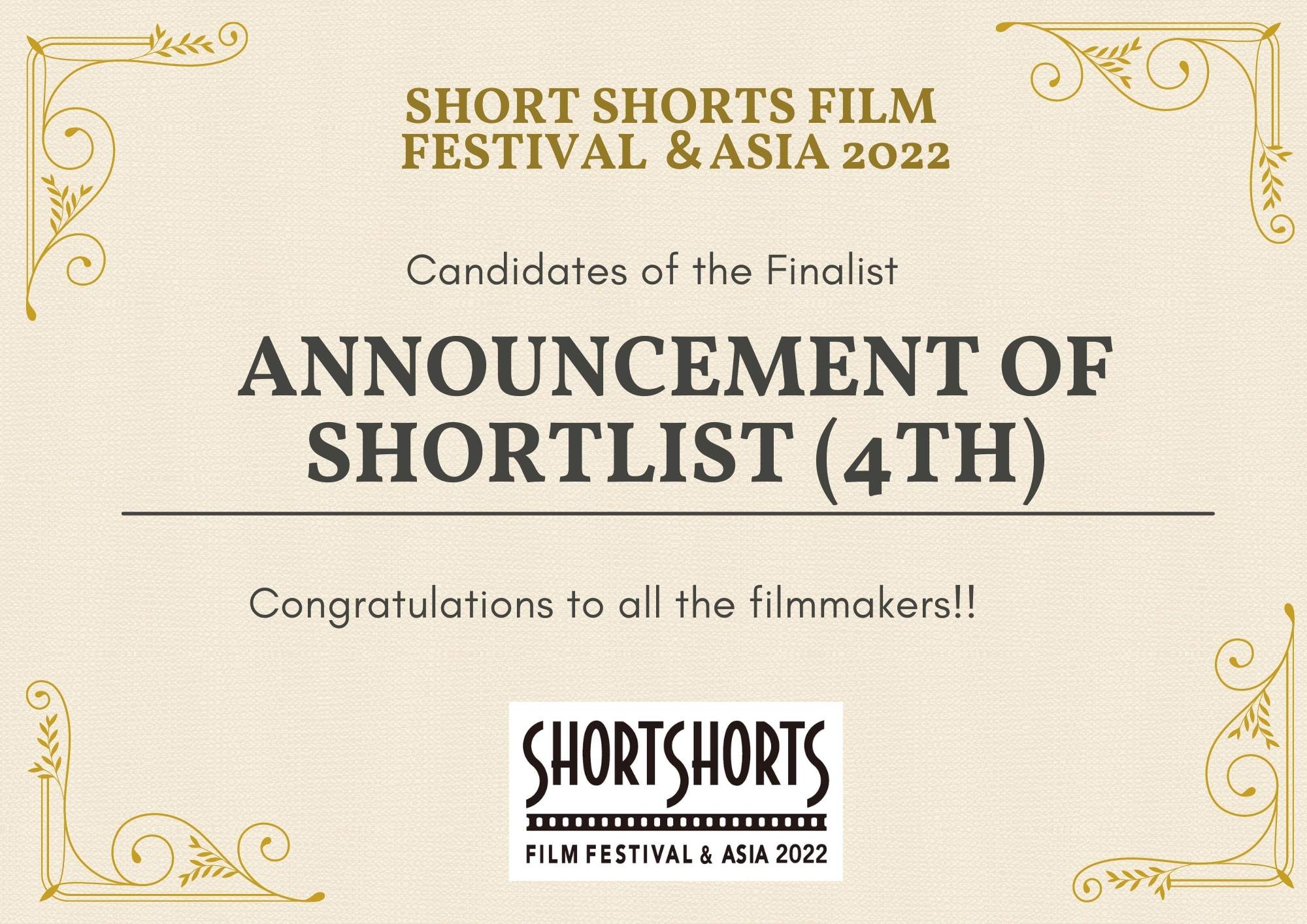 Beginning in August, we have released a shortlist from among the entries for the five Academy Award© categories (International, Asia International, Japan, Animation, Non-fiction) at the Short Shorts Film Festival & Asia 2022. In November we received 660 submissions. There were many shorts submitted from the United States, France, and Israel. For the Asia International Competition we received the most submissions from South Korea. About 1/3 were shorts from first time directors and another 1/3 were directed by female filmmakers. Along with stories about changes in lifestyle, there were many stories about families from many different angles; the relationships between parents & children, between siblings, with estranged grandparents. There is sure to be a number of short films that you will able to relate to at the festival in June. Today will be the final day to accept submissions in the 5 main competitions as well as the Cinematic Tokyo and the Smartphone Film Competition supported by Sony's Xperia. We hope to see your submissions here!
https://www.shortshorts.org/en/creators/
~ SSFF & ASIA 2022 Short List (4th) ~ *The name of the film, the director name, and the country name will be listed in alphabetical order by category
Title
Director
Country
Official Competition supported by Sony International Competition
+963
Daood Alabdulaa
Germany
5 Stars
Remi Itani
United Kingdom
A Moral Man
Paul and Simon Wade
United Kingdom
BUNKER
Céline Ronté & Antoine Schoumsky
France
Cranberry Chorus
Lina Yuchen Guan Li
United States
Everything Will Be Fine
Joachim Dejonghe
Belgium
Farrucas
Ian de la Rosa
Spain
Four Walls and a Roof
Keelan Nieuwstadt
South Africa
High Sky Low Land (Alvaret)
Maria Eriksson-Hecht
Sweden
Imani
Katia Scarton-Kim
Switzerland
Jungle
Kieran Wheeler
Australia
LEAVE TO REMAIN
Remy Bazerque
United Kingdom
Let the Beast rise (Que la Bête monte)
Marthe Sébille
France
Successful Thawing of Mr. Moro (Lyckad upptining av herr Moro)
Jerry Carlsson
Sweden
TERMAJI
Avel Corre
France
The Affront (Behördenhasser)
Jonas Ulrich
Switzerland
Warsha
Dania Bdeir
Lebanon
WE DO THIS ONCE
Michael Marantz
United States
Matrice (رحم)
Faten Jaziri
Tunisia
Official Competition supported by Sony Asia International Competition
Boy On The Fringes
Zachary Yap
Singapore
Hand It To Pari
Amir Jalali
Iran, Islamic Republic of
How to get lost in your own room (집 안에서 완벽하게 미아가 되는 법)
jaehyun park
Korea, Republic of
Jaagran
Hardik Sadhwani & Ritviq Joshi
India
Orthodontics
mohammadreza mayghani
Iran, Islamic Republic of
Recruitment (Gozinesh)
Nazanin chitsaz
Iran, Islamic Republic of
Smile Please
Bakul Matiyani
India
Split Ends
Alireza Kazemipour
Iran, Islamic Republic of
The Executioner
Yue Huang
China
The hands
Seowon Jung
Korea, Republic of
Official Competition supported by Sony Japan Competition
息、さらす (Breathless)
岩田 隼之介 (Junnosuke Iwata)
Japan
お願いだから、唱えてよ (Chant out loud!)
佐島 由昭  (Yoshiaki Sajima)
Japan
Orbital Christmas
Mitsuyasu Sakai
Japan
水魚の交わり
村田 陽奈 (Hina Murata)
Japan
だれかとはなしがしたくなる
安村 栄美 (ヤスムラ エミ)
Japan
DIS ME LAND
カ ツヲ (Katsuwo)
Japan
母の反抗期 (a family portrait)
近江 浩之 (Hiroyuki Oumi)
Japan
ほどく女 (Unwinding woman)
佐藤 剛平  (Gohey Sato)
Japan
ぽくぽく(Exorcism Master)
塩出 太志 (Taishi Shiode)
Japan
Like You
Tetsuya Uesugi
Japan
Animation Competition
Absense
Marc Héricher
France
Air
Brian Wilcox
United States
Come
David McShane
United Kingdom
Destiny
松岡 美乃梨 ( Minori Matsuoka)
Japan
Laika & Nemo
Jan Gadermann & Sebastian Gadow
Germany
Rest in piece
Antoine Antabi
Germany
RIM
Hagar Faibish
Germany
The Night Watch (Ronde de nuit)
Julien Regnard
France
The Torrential Melody
José Luis Saturno
Mexico
Your Bad Animals
Ido Shapira & Amit Cohen
Israel
Non-Fiction Competition
Blind Spot
Lotfi Achour
Tunisia, France
Dress A Cow
Dawn Luebbe
United States
Her Scents of Pu Er
Anna-Claria Ostasenko Bogdanoff
France
Legend (Dong-han Hong) (傳‧傳 (洪東漢))
Feeling Wu
Taiwan
Man with Doves (Man med duvor)
Lina Maria Mannheimer
Sweden
Salman Toor's Emerald Green
Adam Golfer
United States
HOPE / Look up to the sky
上田 大介 (Daisuke Ueda)
Japan
Festival selections will be made from among the shortlisted films. The shortlist films will be selected monthly until the end of March, 2022 and will be uploaded on the festival's official website by the end of April, 2022.This month's shortlist is mainly for films submitted by the end of November, but the timing of the announcements may vary.