Announcement of SSFF & ASIA 2023 Shortlist (#5)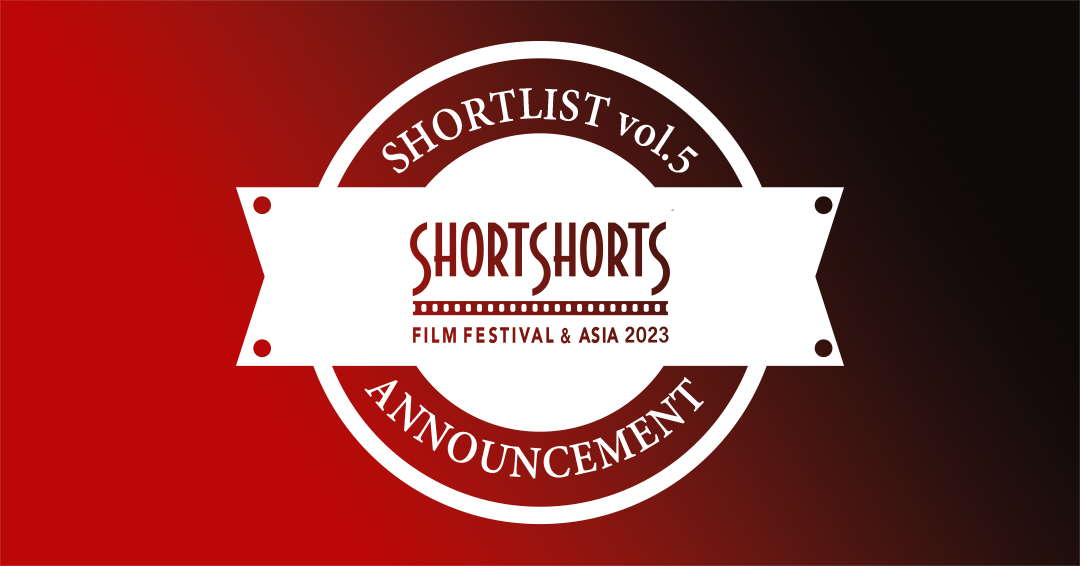 Beginning in August, 2021, the Short Shorts Film Festival & Asia began releasing a shortlist monthly from among the entries for the five Academy Award© eligible categories (International, Asia International, Japan, Animation, & Non-fiction) for the following year's festival. For this year's 25th Anniversary edition of the SSFF & Asia 2023, in December this year, we received a total of 327 entries. In particular, there were many entries from Japan, the United States, France, China, and Germany. About 20% of the total submissions were from Japan. In addition, 30% of the submitted films were directed by female filmmakers and 36% from first-time filmmakers, and 28 % from student filmmakers. In the submitted Japanese films, there were many films set outside of reality such as sci-fi, period dramas, and horror or surreal stories. From the International films, there were more stories about daily life and simple situations in the everyday lives of the characters. Also, for Smartphone films, we have been receiving more unique films full of originality, even more so than previous years! Today is the final day for accepting submissions in the U-25 & Branded Shorts. We look forward to your submissions!!
https://www.shortshorts.org/creators/en  
〜SSFF & ASIS 2023 shortlist(5th)~
~ The name of the film, the director name, and the country name will be listed in alphabetical order by category ~
 Title
Director
Country of Origin
■International/Live-action Competition
A milky way
Quentin Moll-Van Roye
Belgium
ABATTÉE
Gilard pierre andré
France
Agathe
Israël Jonathan
France
An Avocado Pit
Ary Zara
Portugal
Cherubs
Anne-Sophie Bine
United States
Ciela
Mauricio Sierra
Mexico
Eisspin, the oh so Terrible
Doll Adrian
Germany
Erik
David Kodheli
Albania
Flores del otro Patio
Jorge Cadena
Switzerland
Harta
J√∫lia de Paz
Spain
Lǎo Lao Lǎo Le
Julie Zhu
New Zealand
Last weekend with Jenny and John
Jimmy Olsson
Sweden
Lost in the Sky
Simon Öster
Sweden
Lot's Wife
Ori Birger
Israel
Mary
Aaron Lucas
Australia
nothing, except everything.
Wesley Wang
United States
SACE
Ose Oyamendan
Nigeria
Safe Word
Christopher Cunetto
United States
Self
Konrad Kultys
Poland
SÈT LAM
Vincent Fontano
France
Shinigami
Lina Laraki
France
SONAR
James Hughes
United Kingdom
Sweet Refuge
Maryam Mir
United States
Tears of Love
Oliver Würffell
United States
The Olympic Flame
Sela Guil
France
The Pool
Erica Yen Chin Long & Cristobal Olguin
Australia
The Riley Sisters
Julia Jackman
United Kingdom
Variations on a Theme
Peter Collins Campbell
United States
Warning
Axel ZEILIGER
France
■Asia International / Live-action Competition
LAILA
Wulandari Wucha
Indonesia
Marsiti & Sapi-sapi
Pratama Wisnu Surya
Indonesia
MiMi
Lam Vissay
Vietnam
The three men
Gunhee LEE
Korea, Republic of
When There Were Trees
Shahin Gorgani
Iran, Islamic Republic of
Winter's Passing
Yang Fei
China, United States
■Animation Competition
Black Wing
Tim Main
Australia
Dede is dead
Philippe Kastner
Czech Republic
Frontier
Xiaopeng Zhu
China
Hermit Island
Gábor Mariai
Hungary
Lighthouse
Filip Kraus
Czech Republic
The House of Loss
Jinkyu Jeon
Japan
■Non-Fiction Competition
Kemonito: The Final Fall
Teresa de Miguel
Mexico
Lahooti
Sebastian Feehan & Matthieu Paley
United Kingdom
Liturgy of anti-tank obstacles
Sukholytkyy-Sobchuk Dmytro
Ukraine
Women in Architecture
Boris Noir
Switzerland
Teleporting
クォン・オヨン,ナム・アルム, 苗加奈那,丹沢千文  
Korea, Japan
■Japan / Live-action Competition
時をスベる男
Naoki Furukawa 
Japan
fu
Seki Hiroyuki
Japan
The Hole
Goushi Suzuki
Japan
Waiting for a Wave
Kaori Danjo
Japan
Festival selections will be made from among the shortlisted films. The shortlist films will be selected monthly until the end of March, 2023 and will be uploaded on the festival's official website by the end of April, 2023.This month's shortlist is mainly drawn from films submitted by the end of December, however the timing of the announcements may vary.