Devices to watch a film, to devices with which you can shoot a film with.
What if an everyday's fading scene becomes a story?
What if you could keep a casual conversation like a famous line?
What story would you like to make?
Smartphone expand their possibility as technology continues.
Devices to watch a film, to devices with which you can shoot a film with.
The Short Shorts Film Festival & Asia 2020 presents "bordeless" challenges and a platform for creativity, and this time it is partnered with SONY, the "creative entertainment company", providing not just technology for creation, but a place of connection for those creators.
These goals are present in "Creators' Junction", an event where creators' passion and talent will meet. We look to explore the future of film with the next generation of creators.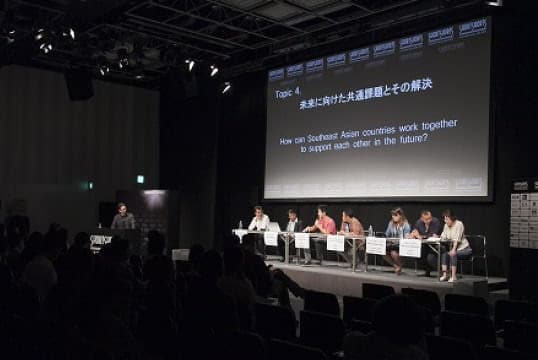 Creators' Junction
partnered with Xperia™
Guests
Naomi Kawase

Born and raised in Nara, Kawase graduated from Visual Arts Osaka in 1989. Her films, 'Embracing' and 'KATATSUMORI' received international recognitions and awards at the Yamagata International Documentary Film Festival in 1995. With her first feature, SUZAKU (1997), she became the youngest filmmaker to receive the Camera d'Or at the Festival de Cannes with her. At the Festival de Cannes, she has also won the Grand Prix with The Mourning Forest /MOGARI (2007), the Carrosse d'Or in 2009, and also served as one of thejurors for the competition in 2013. In 2015, KAWASE was bestowed with the Chevalier de l'Ordre des Arts et des Lettres (Knight of the Order of Arts and Letters) by the French Minister of Culture. In 2017, "Hikari"(RADIANCE) was selected as one of the competition films and given Ecumenical Jury awards. She was appointed to direct the Official Film of the Olympics Game Tokyo 2020. Her latest film, 'True Mothers', was a Cannes 2020 Official Selection, and is scheduled to open in Japan on October 23 before its international release. She was named as producer & senior advisor for the Expo 2025 Osaka Aside from being a filmmaker, she is the founder and Executive Director for the Nara International Film Festival.

Daiki Tsuneta

Active as a Japanese artist/musician that absorbs different art & culture in various projects & groups; King Gnu, millennium parade, & PERIMETRON. Attended Tokyo Art University & was a cellist in Seiji Ozawa Music Academy. After professionally taking up music, made appearances at SXSW 2017, the Fuji Rock Festival, Green Room Festival, & Mutek. His wide-ranging work includes music director for films as well as for Adidas, Dior, New BalanceXChari CO., Beams, NumeroXEmporio Armani as well as productin the music for NY Collection's N. Hollywood fashion show.
Moderator: Tetsuya Bessho
Introduce previous activities for next generation creators
by Xperia™ "Student Challenge"
At Sony, we believe in the power of creativity.
We believe that creativity is what moves people,
what moves the world.