HOME Topics ListSSFF & ASIA 2019 Screening in Autumn ended on Fri., Oct. 18th
Topics /
SSFF & ASIA 2019 Screening in Autumn ended on Fri., Oct. 18th
2019/10/21
We had many audience on the final day.
For the first program "Award Winning Shorts Program 3 -Focus on Female Filmmakers and Actors", we had Miki Yawata, director of "Beard and Raincoat". She talked about fetishism which was depicted in her short. She also told about difference between commercial advertisement and short film from her perspective as a professional commercial filmmaker.
She would like to make this short film longer in the future. She also said that she might deepen the theme "fetishism". Since there are many kinds of movies around us now, she wants to try something very new to people.
For the "Award Winning Shorts Program 2 -Focus on Animators Worldwide", 3 filmmakers made appearances and explained their various production style.
Tomoki Misato, director of "My Little Goat" made his short with wool puppets focusing on 1/24 flames intensively.
He explained that a scene in which seven sheep become one was particularly difficult to shoot. He tried what only animation can archive.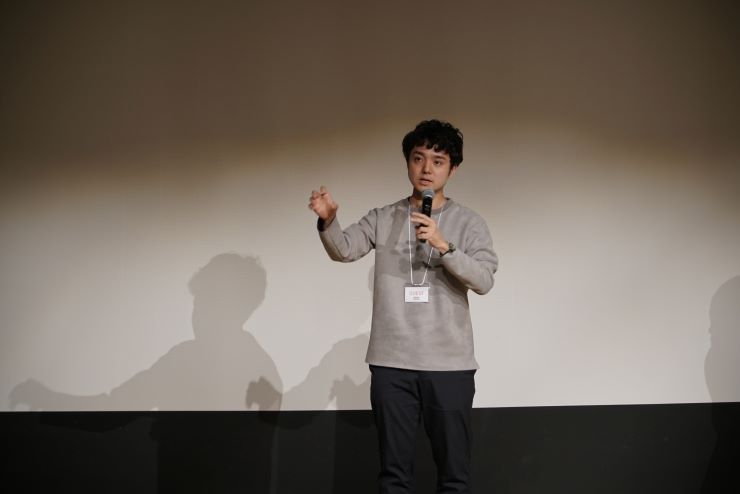 Sayaka Hara, director of "The Deluge" who won the best award of U-25 competition but could not attend the award ceremony in June expressed that she was surprised and glad to have the award.
She thought how she could translate Noachian worldwide flood into usual work and used varied techniques to make an opera animation.
Masanao Kawajiri who won the audience award of Japan competition with "A Japanese Boy Who Draws" appeared to the stage for the 2nd time.
With cooperation of professional cartoonists and autistic people, he depicted their growing process.
He explained , for his 30th anniversary, he wanted to make a culmination of his work. He wanted to express feeling of a bit loneliness that cartoonists around him quit one by one without too much melancholy.
His saying that he is now calling for cartoonists for his long feature film made the audience excited.
We are very looking for their next works.
After the screening, directors met and mingled each other at the lobby.
"Award Winning Shorts Program 1-Focus on Upcoming Actors" was also a big success. As many people were on the waiting list.
The Screening in Autumn closed.
We look forward to seeing you next year!
Archives
Project
Information