News & Information
[REPORT] Seminar by Director Kiyoshi Kurosawa!
2017/10/23
Seminar by Director Kiyoshi Kurosawa – Short Shorts Film Festival & Asia Autumn Edition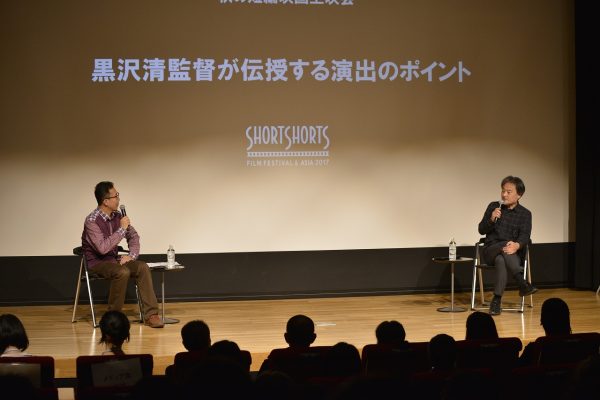 To close off our autumn festival, we held a seminar with the film director Kiyoshi Kurosawa, who has won many prestigious awards such as Best Director in the Un Certain Regard section at the 2015 Cannes Film Festival with the film "Journey to the Shore".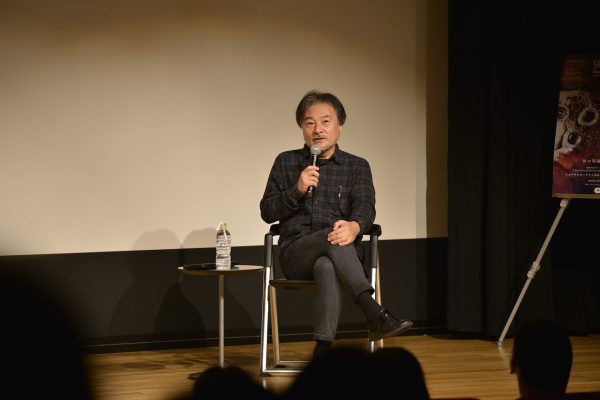 The seminar started with the introduction of his works by screening trailers of his prominent films including "Doppelganger", "Tokyo Sonata", "La Femme de la Plaque Argentique", and "Before We Vanish", which were released at the early stages of his career. "I think my favorite films from 1970s might have influenced me a lot", he said while referring to films such as "Dirty Harry"(Don Siegel) and "The Longest Yard"(Robert Aldrich)". He described them as sort of like B-class films by renowned filmmakers who had profound experiences with American films in the good old days. When he was young, he watched a number of bizarre films with traditional yet breathtaking techniques with great action scenes. Kurosawa also explained that the films which had affected his filmmaking style were the ones that did not clearly define everything in the story, and where audiences couldn't tell who's the good guy or bad guy.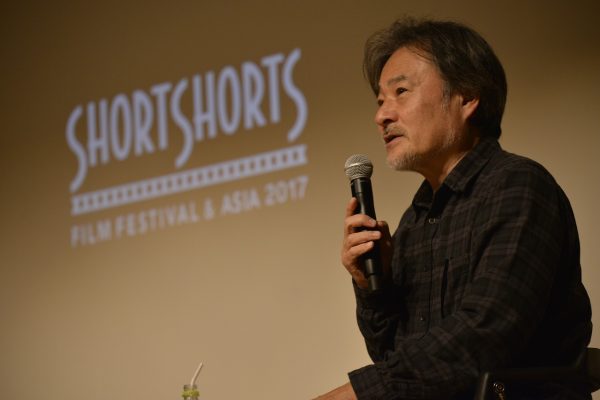 He worked as an assistant director for Shinji Somai and directed his first major feature film "Sweet Home" (produced by Juzo Itami) in 1989. He since gained worldwide attention with "Cure"(1997). It was before "The Ring" (directed by Hideo Nakata) became a smash hit and the genre of 'Japanese Horror' had been established. What Kurosawa intended to portray at the time was the combination of family drama and fairy-like ghosts in a fantastical or mythological way. After "Cure", he directed more horror films and he is sometimes known as the master of Japanese Horror, but he himself, actually doesn't stick to horror films and has been eager to try working on a variety of genres. In 2008, "Tokyo Sonata", with a theme revolving around 'breakdowns and the reuniting of a family', won the Jury Award in the Un Certain Regard section at Cannes Film Festival. Ever since, he has worked on a range of projects including TV drama series 'Shokuzai' and the short film "Beautiful New Bay Area Project".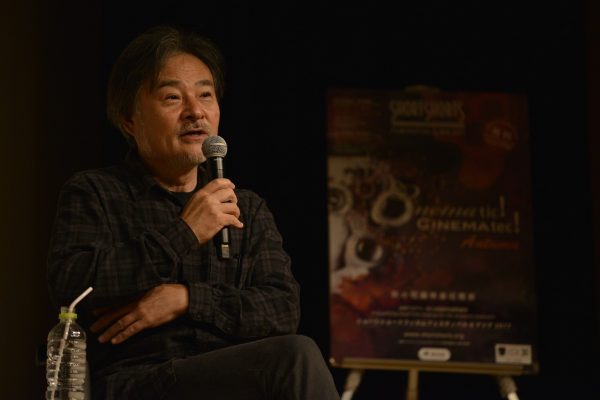 This short film was commissioned by the Hong Kong Film Festival, where four Asian directors directed short films within 30 minutes, and Kurosawa was asked to showcase the theme 'beautiful'. He developed "Beautiful New Bay Area Project" with his students at the Tokyo University of the Arts for their graduation thesis. This film was literally shot in a new developing area, and he said the location was inevitably decided due to the difficulty of shooting films in the center of Tokyo nowadays. Also, shooting a film in an underdeveloped or abandoned area at the edge of Tokyo was interesting and useful especially for films with tons of action, explosions and fire!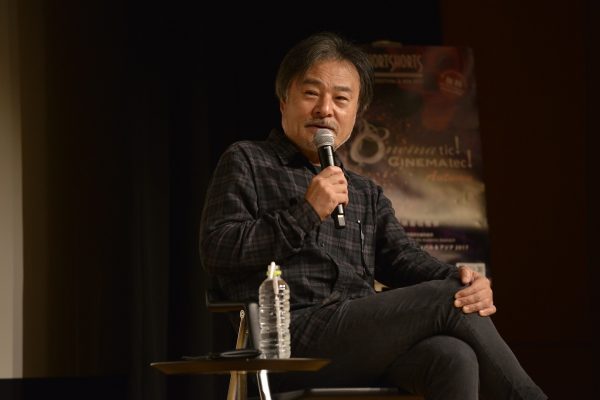 Kurosawa said "I think music around the late 90s or early 2000s matched the most, as it was music from the period before televisions had spread through the market". In the process of his filmmaking, he would normally pick up some composers or certain film music to express his image. He also mentioned the music technique of not choosing scary music for scary scenes, and 'assuring the audience's feeling with music' instead. For the beginning of 'shivering' scene, he intentionally doesn't use music at all, and later inserts chilling music to assure audiences, "it's alright, yes, this IS a scary scene."
He talked about the importance of 'what will be shown in one cut' – something else happening or suggesting something would be happening behind the scenes. He believes that in live action filmmaking, there are tons of elements that could increase the possibility of conveying a story in one scene; elements such as curtains swaying in the wind, half-opened doors or mirrors are good examples.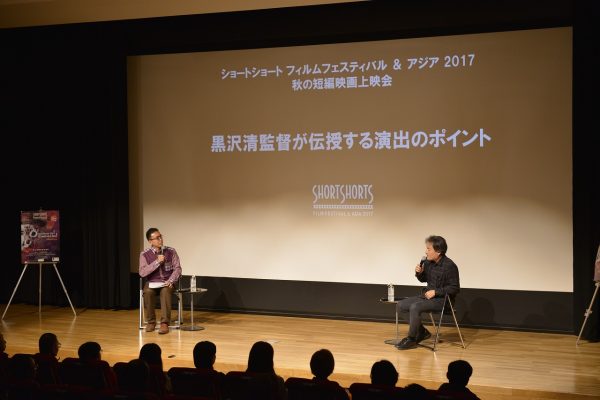 Following the talk session, Kurosawa answered some questions from eager audience members. "Once, I heard the director define death as an illusion, but had a hard time finding the word for 'love' in an interview for 'La Femme de la Plaque Argentique'. The theme of his film that was released afterwards, "Before We Vanish", WAS love. Was there a connection between them?" He was surprised to hear that they remembered such details of his interview and said "When I'm working on a certain film, I simply commit myself to the film, and after its completion, I answer a number of questions in interviews, and I realize what I was thinking or intended to do in the film, and those kinds of discoveries do affect the following films." He ended the seminar with the following words; "My style is to do whatever is in front of me, I want to try anything and things I've never done before. For instance, I'm interested in films about war and people fighting in war".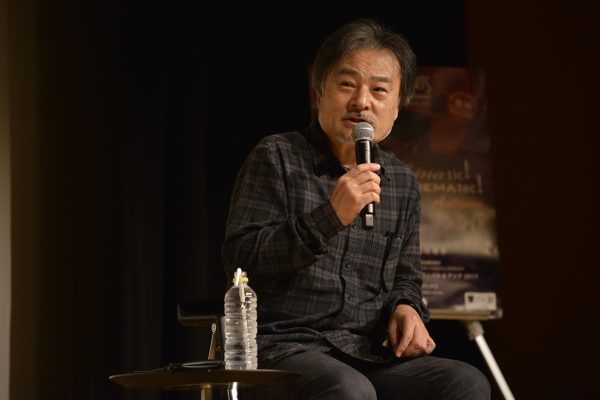 The digest movie from the seminar will be available on our official YouTube channel in November. Please check back for details.
Archives
Menu
Information