What is BRANDED SHORTS?
Traditional communication strategies become less effective in forming consumer engagement. As the way we communicate changes, an increasing number of companies are breaking into movie marketing. "Branded movies" are especially unique in that they are committed to produce value for consumers with the power of storytelling and entertainment while reflecting on a brand's philosophies and ideas.
SSFF & ASIA launched BRANDED SHORTS in 2016 to introduce successful branded works. We aim to create the possibility of branded movies while consolidating its position as the only international festival for advertising works in Japan.
---
BRANDED SHORTS 2019
---
BRANDED SHORTS 2020
A competition for movies that are produced with the goal of communicating with customers, as well as promoting the brands of companies and organizations, otherwise known as branded movies. Out of 400 entries, 16 are nominated for the International Category and 7 are nominated for the National Category.

---
Judging Criteria
Academy Awards® qualifying short film festival and one of the biggest short film festivals in Asia, SSFF & ASIA evaluate branded movies according to seven criteria: Cinematic, Storytelling, Emotional Appeal, Idea, Originality, Shearable and Branding Power.
---
SCREENING PROGRAM
---
AWARD

BRANDED SHORTS OF THE YEAR
We have gathered jury members with different backgrounds to select the Branded Shorts of the Year for both the International Category and National Category.
SUNRISE CineAD Award
SUNRISE Company Limited, with their philosophy "make movies a communication medium," specialize exclusively in cinema related advertising and promotional opportunities. BRANDED SHORTS and SUNRISE intend to develop branded movies as "advertisements that move people", and which produce value for consumers with the power of storytelling and entertainment while reflecting on a brand's message. With this, the SUNRISE CineAD Award has been established, which will be awarded to the most cinematic branded movie. Considering that all conditions are satisfied, the winning work will be given an advertising spot and will be screened in cinemas across Japan.
The Visual Tourism Award Project
Among tourism promotional films, movies, and videos produced in all 47 prefectures in Japan, the Grand Tourism Award (Commissioner of Tourism Award) will be given to the most creative, promotional, and topical work, based on the perspective of tourism promotion.
EVENT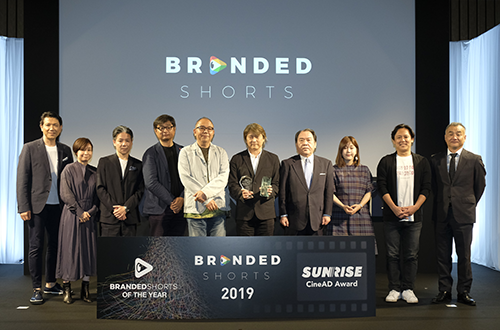 In the first part, we will announce the completion of the latest Nestlé Theater's Branded Shorts.
In the second part, the BRANDED SHORTS 2020 Award Ceremony and then the nominated works of 2020 including the award-winning works will be screened.