Save the Earth! Competition

Save the Earth with the power of visual images!
"STOP! Global Warming Competition," established with the "Challenge 25 Campaign," was re-born as the "Save the Earth! Competition"in 2013. This year, we have selected 11 films out of the 144 submitted shorts from around the globe. The J-WAVE Award endorsed by J-WAVE, Tokyo's #1 FM radio station, will be awarded to a "Save the Earth! Competition" winner by J-me Cinema Circle jury.

---
Best Short Award
(Minister's Award, the Ministry of Environment)
---
J-WAVE Award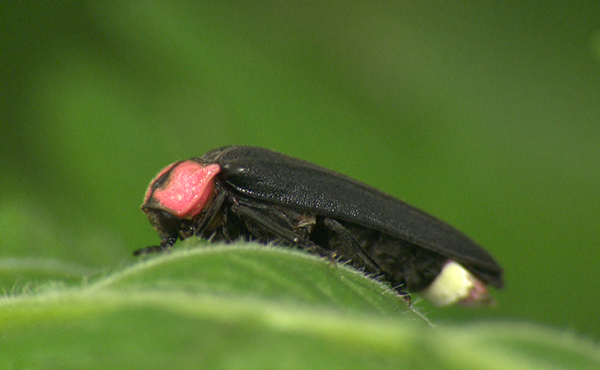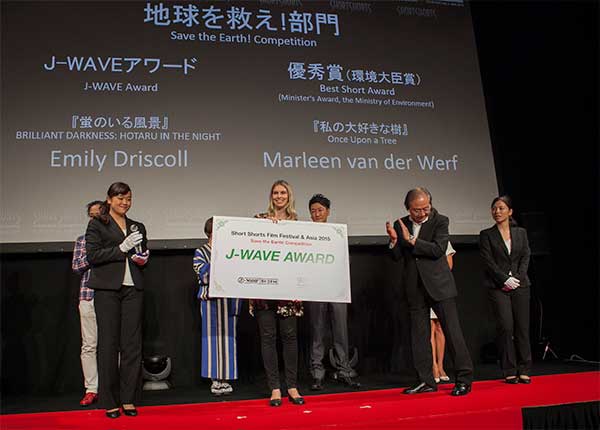 ---
A Message to Short Film Fans Who Love Our Planet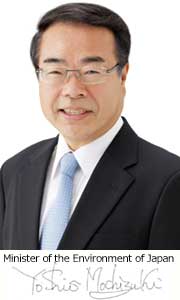 I am Yoshio Mochizuki, the Minister of the Environment of Japan.
Climate change poses an existential threat to humanity. Last November saw the release of the fifth Assessment Report by the Intergovernmental Panel on Climate Change (IPCC), which brings together scientists from around the world. According to the report, "warming of the climate system is unequivocal," and "average temperatures at the end of this century will be 2.6 - 4.8°C higher than today if emissions are left unchecked." In other words, the waiting game on policy must end, here and now.

The Ministry of the Environment launched its "Fun to Share" climate change awareness campaign in March 2014 in order to boost public interest in the issue of global warming and partner with each and every member of society to create a future for our planet. As a result, we have seen a nationwide emergence of technologies and smart practices for a low-carbon society. The role of the Ministry is to act as the power source for the "Fun to Share" campaign and help create a society where these technologies and practices are shared for the fun of it, for the thrill of making a better future. Our aim is to provoke reflection and dialogue about the issue of climate change through these and other actions.

The "Save the Earth! Competition" in the Short Shorts Film Festival & Asia 2015 seeks to help stop climate change in its tracks through the power of film. As with past competitions, submissions on the theme of climate change have poured in from around the world, and outstanding entries are slated for showcasing during the Festival. I hope and believe that these great short films have the power to serve as a rallying cry to stop the further advance of global warming, and explore what it would take to create a sustainable society.

The organizers of the "Save the Earth! Competition" as well as the festival as a whole deserve the deepest respect for their efforts in making this event a reality. I wish them and the entire Short Shorts Film Festival & Asia 2015 all the best.

Yoshio Mochizuki
Minister of the Environment of Japan
---
Save the Earth! Competition Jurors

Yuki Iwata - Film Director, Illustrator, Manga Artist
Born in Shimada City, Shizuoka Prefecture. After working in the office of a local business, she attended a vocational school of design. She worked as a character designer for an Osaka based stationers following graduation. Later relocating to Tokyo, she began working as a freelance illustrator, contributing to fashion magazines alongside her stationary designs. In 2000 she started to work in video production, her film "Shin Koko Kara no Kei" winning the Special Jury Prize at Pia Film Festival before going on to win further awards at other festivals. She made her commercial film debut in 2005 with "Osage no Hondana," and in 2007 directed her first feature length film, "Lemon no Koro." In 2009 her film "8mm" screened in the SSFF 2010 Music Short PV Competition and was awarded the Best Short Award. She wrote and directed "Looking for a True Fiancée" in 2011. Her manga "Ginmaku Hige Circus" appears cincinema☆cinema magazine, and last year she announced the release of the application "Wagahai wa Parapara Manga de Aru."

Ritsuko Tanaka - Actress and Television Personality
She is active in many fields, including appearances in drama variety shows and commercials. Whist she serves as president of the NPO Aqua Planet, working to protect natural environments, she is engaged in activities to aid the regeneration of coral reefs. In addition, she is a practicing yoga instructor and last year established the Japan SUP Yoga Association, where she is currently engaged as the chairwoman.

Jun Hori - Former NHK anchor. CEO of public news website "8bitNews."
Born July 9, 1977 in Hyogo Prefecture, Japan. After receiving his BA from Rikkyo University in German Language and Literature, he began working for Japan Broadcasting Corporation NHK in 2001. He reported for news programs such as "News Watch 9" and "Biz Spo." In June 2012 he launched the public news website "8bitNews," officially leaving NHK on April 1, 2014. Active in many fields, his roles currently include serving as the MC on the news show "Morning CROSS" (Tokyo MX), and appearing as the main personality on the radio show "JAM THE WORLD" (J-WAVE).

Lou Ohshiba - Television Personality
In his native Japan, Lou Ohshiba is an extremely well-known and respected actor and entertainer. He has appeared in numerous TV productions as well as movies and theatre productions, and has featured on music CDs. He has also lent his voice skills to narration in television documentaries and written various books and articles. He is a regular on the corporate lecture circuit, where he is a very popular guest speaker. He is perhaps best known for inventing "Lou-go" (or "Lou-language") – a unique combination of seemingly random English words and everyday Japanese. His last musical release in 2007, "MOTTAINAI" (produced for NHK), had an eco-friendly theme which resulted in him becoming involved in many ecological activities – something for which he is greatly admired in Japan. He has a variety of hobbies, including being a grandmaster of the Enshu School of the Japanese Tea Ceremony and an acknowledged expert on aquariums. His ongoing quest is to find the best noodle stand in Japan! In 2007, he won the GQ Man of the Year Prize and also, in the same year, Japan's Humor Prize. Most recently he was made an affiliate professor of Yamano College of Aesthetics, in 2010.
---
Save the Earth!
Save the Earth! ProgramSave the Earth! Program
This competition was launched with the Ministry of the Environment (Japan) in 2008. It gathers a wide variety of films that approach environmental issues and offer enlightening ideas about protecting the environment through the medium of film.