How to experience the festival
Before the Day

1. Choose what programs/events to go to
The competition has screening programs, special programs, and other events. → Check the
Screening Programs/Events
page!
If you have a preferred time you can also choose from the
Schedule.

2. Book with Peatix
You can book beforehand through the event ticketing platform Peatix.
There won't be many tickets for sale on the day, so it's a good idea to get it sorted beforehand!
If a screening sells out we will stop taking bookings.
Tickets are free for most events
For details, check on "Ticket" page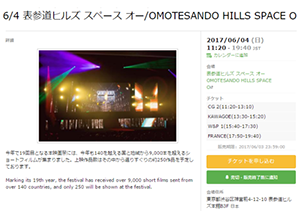 On the Day

3. Show the Peatix booking at reception
Show the receptionist the ticket booking page for the film you're seeing.
The seating is general admission, and will be different for each screening.
The order of admission will be on numbered tickets handed out at reception.

4. Enjoy the films!
Some screenings will also feature Q&A sessions with the directors!
→ Check the Guest Information

5. Share your thoughts!
The festival has official social media accounts! Tag us with the hashtag #SSFF!