Hulu presents
Tonko House's Journey in 2017
SPECIAL
Admission Free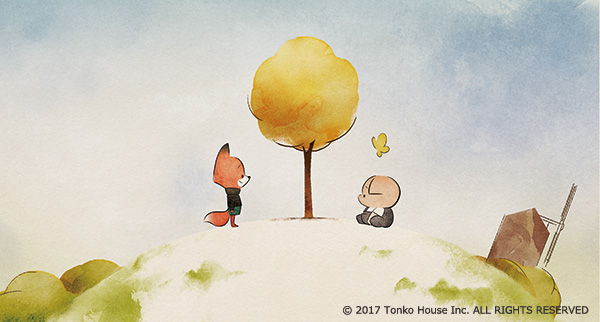 The production staff of the new series "Pig - The Dam Keeper Poem" is coming to Japan ahead of its premiere on Hulu this summer!
The Dam Keeper received the 2015 Academy Award nomination for Best Animated Short Film. From the creators of the short film comes a new short series, Pig - The Dam Keeper Poems, a humorous yet poignant story that portrays the friendship of Pig and Fox, directed by Erick Oh. The series premieres on Hulu this summer.
Members of the animation studio Tonko House, are coming to Japan to talk about their past works and future plans.
About Tonko House
In early 2012, art directors Dice Tsutsumi and Robert Kondo found themselves searching for ways to expand upon their filmmaking experience in Pixar's art department. They decided to write and direct an independent animated short film together. The film, The Dam Keeper, was an 18-minute short that garnered an Academy Award Nomination. Upon completing the film, they found the experience of building the team and film life-changing, and the two artists found themselves reinvestigating their current path. They began to pursue answers to the question, "why?" related to their ambitions and dreams. The search for an answer led the two away from the comfort of Pixar's gates to challenge themselves with the unfamiliar, to continue on the path of learning. In July 2014, Dice and Robert founded Tonko House as a place to nurture growth while telling stories for the world.
The special exhibition—Tonko House: the journey of "The Dam Keeper"—is currently open until Sunday, June 25th at the Ishinomori Manga Museum in Ishinomaki City, Miyagi.
-Tonko House http://www.tonkohouse.com/jp/
-"The Dam Keeper" Japanese site http://thedamkeeper.jimdo.com/
Date: June 18th (Sun) Time: 17:50-
Location: iTSCOM STUDIO & HALL Futakotamagawa Rise
Admission Free
Guest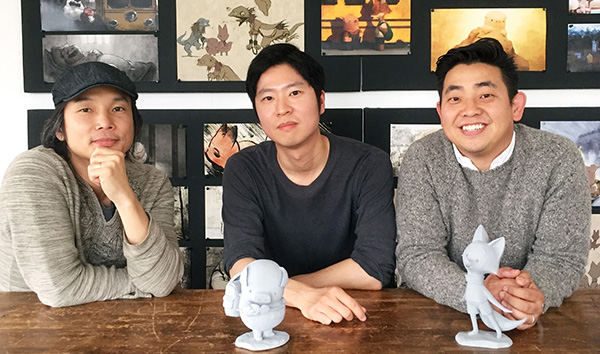 Director : Erick Oh(Center)
Erick Oh is a Korean filmmaker / artist based in California, USA. His personal films and works have been introduced and awared at numerous international film festivals and galleries including Annecy Animation Festival, Hiroshima Animation Festival, Student Academy Awards, Zagreb Film Festival, SIGGRAPH, Anima Mundi and Ars Electronica while 'The Dam Keeper', an independent short Erick participated in as a supervising animator was nominated for the Academy Awards in 2015. After receiving his BFA from Fine Art Department at Seoul National University and his MFA from UCLA's film program, Erick worked at Pixar Animation Studios as an animator from 2010 to 2016. Erick recently joined Tonko House founded by Dice Tsutsumi and Robert Kondo to direct his own project.
Executive Producer : Daisuke "Dice" Tsutsumi(Left)
Daisuke "Dice" Tsutsumi, originally from Japan, is a filmmaker, painter and philanthropist. A graduate from The School of Visual Arts in New York, Dice has worked as a visual development/color key artist at Blue Sky Studios on Ice Age, Robots and Horton Hears a Who! His credits at Pixar Animation include Lighting Art Director for Toy Story 3 and Monsters University. Dice is passionate about charity work and spearheaded both The Totoro Forest Project and Sketchtravel.
Executive Producer : Robert Kondo(Right)
Robert Kondo Originally from Southern California, Robert Kondo graduated with a degree in illustration from the Art Center College of Design in Pasadena. Robert landed his dream job as a sketch artist at Pixar on their 2006 release Ratatouille. While at Pixar, his film credits included Sets Art Director for Ratatouille, Toy Story 3, and most recently Monsters University and Production Designer on two shorts. In July, 2014, Robert left Pixar to start Tonko House, where everyday is a challenge and an adventure.
---
*The event and film details may change.
*The speakers may change.