Column & Interview
[Interview] What is Edinburgh Short Film Festival?
2017/05/02
In SSFF & ASIA 2017, we have Edinburgh Short Film Fesitival Program.
A selection of short films from the Edinburgh Short Film Fesitival of Scotland. This program screens a wide variety of English, Irish and Scottish short films including an animation film narrated by Irish actor, Liam Cunningham.
Paul Bruce who is the festival director of ESFF introduces ESFF and a program in SSFF & ASIA 2017.
---
Q1. What is Edinburgh Short Film Festival? Object, history and unique programs etc.
The Edinburgh Short Film Festival began in 2011 and at that time there was no dedicated short film event in Edinburgh. Our objective (as film-makers) in launching the ESFF, was to introduce high-quality short film to Edinburgh audiences.
There is a lot of misconception about short film in general, and our aim was (and is) to screen some of the best Scottish, UK & International short film to audiences here, and to make them aware of the incredible quality and creativity that exists in contemporary short form cinema.
In our first year, we started by holding 3 nights to small audiences and now screen 8 nights every Autumn; to mostly sold-out cinemas across the city.
We have held outdoor events in our open-air Garden Cinema, have held partnerships with international film festivals – including the Trinidad & Tobago Film Festival and of course, Japan's Short Shorts Film Festival & Asia as well as the Sardinia Film Festival and the Screenplay Film Festival in the Shetland islands. Next year we plan to work with Mecal – Barcelona's Short Film Festival and with DC Shorts in Washington.
We have hosted Short Documentary events, Silent film events, over 85 visiting film-makers and screened over 500 short films.  During the year, we host networking events for local film-makers and each November we organise our ever-popular closing night party!
---
Q2 What is the highlight of your program to be screened at SSFF & ASIA. Which film in the program you would like to recommend most?
Everyone on the ESFF team has their own favourites of course, and the programme for the 2017 Short Shorts Film Festival & Asia contains a few of mine from last year! I am pleased to send films like 'Cailleach' to Japan, (Cailleach is Scottish Gaelic for Old Lady.)
Cailleach gives Japanese audiencies an idea of life in some of Scotland's remote Western Isles and of the people who live and work the land there. I'm also excited to send you Hinterland, a remarkable film that details an art event set inside an abandonded modernist building (The Seminary in Central Scotland) creating an amazing light show, that turned a partially destroyed and abandoned building into a meditation on light and colour.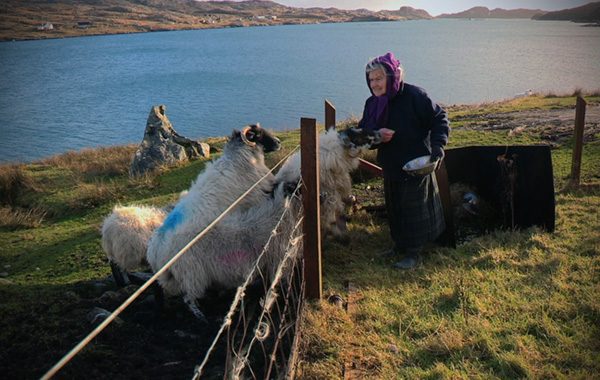 "Cailleach"
Rosie Reed Hillman/14:00/Scotland/Documentary/2014
Morag is 86 & lives alone at the end of a road looking out to sea on her croft on the Isle of Harris, Outer Hebrides, with her 3 cats & 12 sheep. A portrait of Morag & her simple life as she contemplates her life & shares the connection she has to her wild island home.

"Hinterland"
NVA & Julian Schwanitz/07:46/Scotland/Experimental/2016
One of the UK's most successful independent public art organizations, NVA created Hinterland during the sell-out Hinterland event in March 2016 and marked the official launch of Scotland's Festival of Architecture with a sell-out public art event at St Peter's Seminary, presenting a key highlight in the Year of Innovation, Architecture and Design.

---
Q3 Please give us the message to Japanese audience.
As a festival which has long sought out international collaborations, we are delighted to work closely with Short Shorts Film Festival and to be able to screen our short films in Japan this year. We very much enjoyed screening some outstanding Japanese short films from Short Shorts at the Edinburgh Short Film Festival in October 2016 at Edinburgh's prestigious Filmhouse. The reaction from the (sold-out) audience then was very positive and we are hoping Japanese audiences will enjoy our programme in return!
As one of Asia's biggest short film events, it's an honour and a privilege to be asked to take part in Short Shorts Film Festival & Asia 2017 and we are very much looking forward to the festival, I hope you enjoy the Scottish, Irish and UK films we have selected and we very much encourage your feedback!
( by  Paul Bruce, Edinburgh Short Film Festival, Festival Director)
---
For detail of this program
Please click here.